Nearly 34,000 elementary school students in more than 360 schools in four states will plant the equivalent of 85 acres of trees this Arbor Day as Dominion's Project Plant It! enters its third year. Project Plant It! is a cooperative partnership among Dominion, the Arbor Day Foundation and local school districts.
Project Plant It! has tripled in size and scope since its establishment in 2007. More than 29,000 students throughout Virginia are participating in the community effort to educate children, plant trees and improve the environment. The other students attend schools in Connecticut, Massachusetts and Rhode Island, states in which Dominion does business.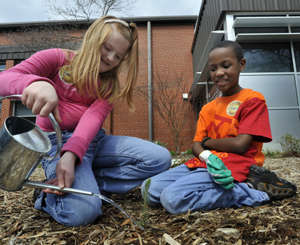 "Project Plant It! offers students a hands-on experience as they learn about the value of trees in our ecosystem," said William C. Hall Jr., vice president – Corporate Communications & Community Affairs for Dominion. "Students can involve their families in planting the seedlings and watching them grow into trees. That makes Project Plant It! both educational and fun."
Third-grade teachers who are registered for Project Plant It! have received an instructional kit with classroom lesson plans and activities, a DVD, posters and other materials specially created by Dominion to align with state learning standards for language arts, math, science and social sciences. In addition, every participating student will receive a tree seedling to plant at home or in another special place to celebrate Arbor Day on Friday, April 24.
"Our elementary students are required to have a meaningful outdoor experience as part of the science curriculum, and Project Plant It! is absolutely ideal," said Joy Greene, environmental science coordinator for Prince William County Schools, Virginia's second largest school district. "Teachers appreciate the high quality, hands-on instructional materials, and all of the third-graders are thrilled to receive their very own tree."
All students in the areas in which Dominion does business may participate in Project Plant It! by requesting materials and seedlings online at www.ProjectPlantIt.com.
"The trees planted by Project Plant It! will have a lasting impact on our planet," said John Rosenow, chief executive of the Arbor Day Foundation. "The Arbor Day Foundation is thrilled to be a part of a project that educates young people about the many benefits that trees provide. This partnership with Dominion is helping the Foundation achieve our mission to inspire people of all generations to plant, nurture and celebrate trees."
Experts at the Virginia Department of Forestry estimate that planting 34,000 seedlings would become the equivalent of about 85 acres of new forest land at maturity.
Additional information on Project Plant It! for students, teachers and parents is available at www.ProjectPlantIt.com. The interactive site includes videos featuring Dominion forestry coordinators and enables students to ask the foresters questions and tell them stories about their tree planting experiences.
The Arbor Day Foundation is a non-profit conservation organization of nearly one million members, with a mission to inspire people to plant, nurture and celebrate trees. More information on the Foundation and its programs can be found at www.arborday.org.
Dominion is one of the nation's largest producers of energy, with a portfolio of more than 27,000 megawatts of generation. Dominion serves retail energy customers in 12 states. For more information about Dominion, visit the company's website at http://www.dom.com.
ay as Dominion's Project Plant It! enters its third year.