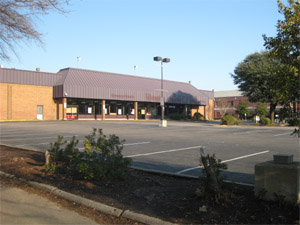 The empty grocery store and parking lot at Grace and Harrison streets could soon be converted into classrooms and library storage for VCU, according to the school's facility manager.
The university foundation purchased the property from out-of-state investors at the end of last year for $9 million. (read about that here.) Ukrop's Supermarkets was the most recent occupant, but they left the store last year because the location wasn't generating enough, if any, profits. Ukrop's still holds a lease on the property.
Brian Ohlinger, the associate vice president of facilities management, said the property had been identified by the university as an area of future of consideration since 2004. But before the university moves into the building, they will have to work out the lease arrangements with Ukrop's, Ohlinger said. That means it will probably be another six to eight months before the university begins to make use of the property, according to Ohlinger.
"We need classrooms in the 60 to 80 seat range; the property provides space for about six of those. The second half of the store can be used for book storage, which would free up space in the library that they could use to convert to more technology use," Ohlinger said.
Ohlinger also said the university plans to make use of the parking lot once the current lease is terminated.
VCU owns all of the property on the city block where the grocery sits with the exception of the ABC store facing Broad Street, and Club 534 at the corner of Harrison and Broad.
"If they became available we would want to buy them but we don't have a sense of urgency on them right now," Ohlinger said, referring to the two parcels VCU doesn't own.
"At this point it is not essential that we acquire them because we effectively control the block which is important because we don't an inappropriate development to come in on top of it."
Ohlinger said the university's long term vision for the block includes a mixed-use development with retail, residential, and parking components; but such a project is at least five years away.