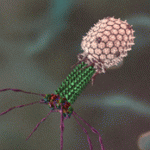 A British firm that has come up with a product to kill high-powered bacteria has become the 56th company in the Virginia BioTechnology Research Park in downtown Richmond.
Biocontrol Ltd.  of London opened an office in an existing building in the park and will operate as a U.S. based affiliate under the name Biocontrol International Inc.
The company plans to expand at the park and open a separate facility once the product gets approval from the Food and Drug Administration.
The company describes its product as a bacteriophage that destroys pseudomona infections.
In layman's terms the product is a virus that "kills a particularly nasty superbug, when antibiotics can't," said Dr. David Harper, Biocontrol's chief scientific officer.
Pseudomona bacteria are known for their natural resistance to penicillin and most antibiotics. The infectious variety flourishes in hospital environments, and is a common cause of secondary infection for patients.
"We've finished the first ever modern clinical trial looking at whether this actually works – it does – and are now moving on to develop our products for a range of infections," Harper said.
There are multiple reasons for selecting the Richmond park for a U.S. base of operations, Harper said. They include proximity to Washington, the potential for expansion and local ties with the company's head scientist who had previously worked at Virginia Commonwealth University.
He said it's too early to tell when the expansion here will occur but the company has already had its initial meeting with the FDA.
Biocontrol International has 10 employees and is a privately held biotechnology company, Harper said.
The Biocontrol office will be in the park's incubator facility. Sixty-seven companies have started operations at the incubator facility since the park opened in 1995.
Research park President and CEO Robert T. Skunda said he is pleased Biocontrol will join the growing number of foreign firms there, including eight Israeli firms.
"Biocontrol Ltd. is representative of the cutting-edge science and technology found in life science research parks … that will dramatically improve human health care in the years to come," Skunda said.
In other area biotech news, Richmond-based Commonwealth Biotechnologies Inc. has received two classified government contracts valued at $1.4 million, the company announced Thursday.
The new contracts are for conducting classified research in bio-defense, the company said in a news release.
"We are pleased that the excellence of our development services continues to be recognized by our government customers," said Dr. Robert B. Harris, president and founder of CBI.
Commonwealth was founded in Richmond in 1992 and is publicly traded company listed on NASDAQ.