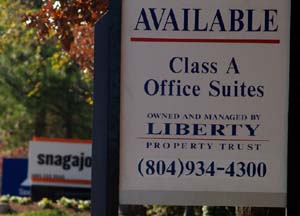 No matter how you slice it, office vacancy rates are climbing in Richmond. And true to supply and demand, landlords are getting more and more generous with freebies such as up to six months free on a long-term lease to lure tenants.
Mark Douglas, head of the office leasing division at Thalhimer, said landlord concessions are effectively lowering the asking rate by 5 percent to 10 percent.  Local brokers, meanwhile, sound increasingly pessimistic about when the commercial real estate market might rebound.
A review of quarterly reports produced by four local commercial brokerage firms shows the office vacancy rate ticked up at least one percentage point from this time last year.
But the vacancy rates – which vary from 9 percent to 15.5 percent depending on the firm conducting the research – also indicate little change from the fourth quarter, when the brokerages reported a vacancy rate between 9 percent and 13.6 percent. (BizSense reviewed market reports from Thalhimer, CB Richard Ellis, Grubb & Ellis | Harrison & Bates, and GVA Advantis.)
And the worst is not likely behind us, brokers say. There are still hundreds and thousands of square feet of "shadow space" that has yet to be reported in the vacancy rate numbers. Those are spaces that are still leased and are still collecting rent but have been vacated by their occupants and won't be renewed. The most notable include the headquarters of Wachovia Securities, Circuit City and LandAmerica, according to brokers.
CB Richard Ellis puts the average lease rate at $18.95 per square foot, which is six cents higher than it reported for the fourth quarter of last year. "We have seen some downward pressure on the lease rates," said Will Bradley, a researcher for CB Richard Ellis. "Landlords are more willing to give concessions like free rent instead of decreasing the asking rate."
According to Grubb & Ellis | Harrison & Bates, the average asking rent for Class A space during the first quarter was $20.82, a 48 cent drop from the same period in 2008.
Douglas, from Thalhimer, said that rates could drop further when the shadow space hits the market but that it would likely only affect rents for large block tenants. Douglas said it's unlikely that smaller businesses will see heavy discounts even though the vacancy rate is climbing.
Still, the empty large block space could be difficult to fill as long as the economy drags. And that vacancy can squeeze landlords who must make mortgage payments to their lenders.
"Landlords may give back the keys to the lender if they do not have recourse financing," Douglas said.
He hasn't seen any instances of this yet, but he said he thinks it could happen this year.
So does Perry Moss, regional director for research at GVA Advantis.
"The owners are going to have to make a tough decision," he said. "Either hand it back to the bank or sell it at a rate that is far below market. They are going to have to bite their bottom lip."
Moss said the majority of recent leases are for smaller space and often include a combination of short terms, flexible renewals and reimbursements for moving expenses.
With activity concentrated around smaller tenants, the question as to who will lease the large swaths of vacant office space looms.
"The organic growth from within is probably not there, at least as long as the recession lasts," Moss said. "There is no way that will be absorbed in this environment unless we pull another Philip Morris or MeadWestvaco to back-fill that space."
If the landlords can't find a tenant and they can't afford to hold onto a property that isn't generating any revenue, then they might be forced to sell.
But finding a desirable buyer in this market could be harder than finding a suitable tenant, Moss said. Sale volume in the past 12 months has plummeted to $142 million, down from $519 million in sales during the preceding year, according to GVA Advantis' first quarter report.
Loopnet.com, a commercial real estate listing site, recorded nine office property sales in the first quarter worth a minimum of $19.1 million. In the first quarter of 2008, Loopnet recorded 12 sales worth a minimum of $40.8 million.
Moss said that most investors are sticking to the sidelines but that some buyers are getting properties for as much as 60 percent less than they were worth a couple of years ago.
"You got a lot of sellers that are in critical need of capital, so you see a lot of sale and leasebacks," Moss said, adding that some landlords who haven't sold property are shopping around for one.
For example, Commonwealth Biotechnologies is offering a 32,000-square-foot office building in Chesterfield for $6.4 million with a 10-year leaseback, according to a listing on Loopnet.com. The asking sale price is more than a million dollars less than the 2007 appraised value.
While office sales activity has been slow, there have been a few notable transactions.
TGM Realty Investors (associated with Thalhimer) purchased the S&K Corporate Headquarters for $5.875 million. The headquarters included 20,000 square feet of office space, 73,000 square feet of warehouse space, and 6,400 square feet of retail space.
Med LLC purchased the 15,000-square-foot Richmond Allergy & Asthma building on Independence Park Drive for $3.4 million.
Community Television of Alabama purchased the 28,900-square-foot office building at 3301-3309 W. Broad St. for $2.8 million.
Notable leases include 84,490 square feet to AECOM Technology Corporation at 4840 Cox Rd., 26,500 square feet to Admiral Insurance Company at 120 East Shore Dr., and 19,300 square feet to Home Care Delivered at 4144 Innslake Dr.
Members of the local real estate industry don't expect the commercial market to improve anytime soon, either. Most of Central Virginia's commercial real estate professionals, about 33 percent, don't expect a recovery to begin until the second quarter of 2010. That is according to an annual forecast survey by Knight, Dorin, and Rountrey.
Ninety-one percent of Richmond's real estate professionals expect 2009 to be a worse year for the commercial sector overall than it was in 2008, according to the survey.
Al Harris covers commercial real estate for BizSense. Please send news tips to [email protected]