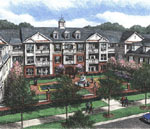 A lender is forcing a foreclosure sale for part of a massive mixed-use project in Chesterfield County.
BCOM Real Estate Fund, based in Miami, says the developer, James Doran Company, has defaulted on a $9.5 million loan that financed a portion of the Midlothian Town Center project at Midlothian Turnpike and Winterfield Road. James Duran Company is based in Charleston, S.C.
The loan was issued in January 2007, and the current debt is more than $12 million, according to a legal notice filed by the lender.
As a mezzanine lender — which according to Investorpedia is a lender that gives money and "retains the rights to convert to an ownership or equity interest in the company if the loan is not paid back in time and in full" — BCOM holds a membership interest in the developer's holding company, MTC-East Investor LLC, as collateral. That is opposed to holding title on the property, as would be the case with a commercial mortgage or CMBS-loan. Mezzanine capital is a finance structure used to fund large-scale commercial developments that require multiple lenders.
BCOM's interest lies in an eight-acre portion of the 58-acre development, where a 246-unit apartment complex (Midlothian Towne Center Apartments) was approved by the county planning commission in January.
The investment company plans to offer their stake in the holding company that owns the parcel at a public auction May 27. The winning bidder would effectively take control of the development.
Not so fast, says Shane Doran, president of James Doran Company.
"We are as surprised as you are to see this, and we plan on defending ourselves vigorously," Doran said Wednesday.
Doran said the company plans to move ahead with the entire project, which in its original plans announced four years ago included 320,000 square feet of retail and 10,000 square feet of office space. No major construction has taken place, aside from about $2 million worth of road improvements paid for by the developer.  And that stretch of Midlothian has seen considerable growth in the past several years, most recently with the building of Watkins Center and Westchester Commons.
BCOM is the only lender that is attempting to sell off the assets of their loan, Doran said.
Representatives of BCOM could not be reached, and an attorney for the firm declined to comment.
Approval for the apartment complex portion of the plans faced opposition from some community residents and went through several applications. More than 100 people attended a community meeting about the project last September, with opposition voiced about whether it met zoning conditions, according to an article that appeared in the Chesterfield Observer.
Andy Little, a real estate investment banker for the John B. Levy Company, said BCOM might be planning to take over the development and bid in their own auction.
"Mezz lenders typically want to rely on the operator to move things forward," Little said. "They must think there is no hope and are trying to get in position where they are controlling the calls on the ground."
Doran wouldn't say exactly how the company planned to defend against BCOM's action, but Little said the most aggressive response would be to counter with a legal action against the lender or seek a solution through a bankruptcy court. Another option would be for the company to bid in the auction itself.
Al Harris covers commercial real estate for BizSense. Please send news tips to [email protected]