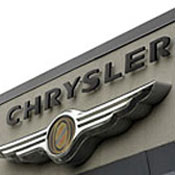 Two of the area's Chrysler dealerships will be closed by the automaker, according to a list of 789 that appeared Thursday morning as part of Chrysler's bankruptcy proceedings. And the pain is going to get worse. GM is announcing today dealerships it will close. One source has said that could be three to five in Richmond.
The cuts amount to 25 percent of the 3,200 dealers Chrysler has across the country. The economic pain may extend beyond the two dealerships because car dealers are generally large supporters of local media companies (radio and TV in particular) and also to local charities.
Dealerships received notices today as to whether they would stay open. Twenty-seven dealerships in Virginia will close, according to the list.
Airport Chrysler Jeep, operated by Lawrence Motor Company, is on the list of eliminated dealerships, as well as Pearson Dodge in Midlothian.
Half of the rejected dealers sold less than 100 cars a year, Chrysler said in a statement. That number was about three times higher last year. Toyota, by comparison, has far fewer dealerships and each one, on average, sells more than a 1,000 cars a year.
Altogether, the closing dealerships account for 14 percent of the company's overall sales.
Representatives from the two area dealerships could not be reached for comment. Pearson has several other dealerships in Richmond, including Honda, Hyundai and another Chrysler dealership.
As many as 50 people work at each of the two dealerships, according to an employee of one of the dealerships staying open who did not want to be quoted. He said some of those employees might be absorbed into other dealerships as the automaker implements plans to reassign franchises.
Many standalone dealerships that only sell one or two of the brands will be cut. Chrysler said they plan to assign 190 franchises to nearby dealers as part of a plan to offer all three brands under one roof at nearly 84 percent of the dealerships. Currently, only 62 percent of its dealerships sell all three: Chrysler, Jeep and Dodge.
The eliminated dealerships are to close by June 9, according to the memo sent to dealers.
That leaves about six Chrysler dealerships in the Richmond area.
GM is also eliminating the Pontiac brand. BizSense recently wrote about what that means for local dealers.

Stay tuned to Richmond BizSense for the latest updates.