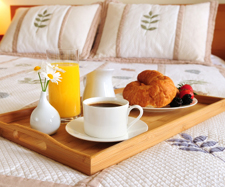 Even with Memorial Day around the corner, it doesn't feel like  a time to celebrate for Virginia's hotel operators.
Demand around Virginia is slackening as business travelers and tourists spend less time on the road. Even hotels in markets that have rarely seen a dip — like Charlottesville — are cutting rates and coming up with new promotions.
But things could always be worse. No central Virginia hotel report slashing room rates by 40 percent to 50 percent in like those in Alaska and Hawaii.
Richmond
With 2,260 additional hotel rooms hitting the market in Richmond by the end of this year — bringing the total to 17,500 — the city has a glut of rooms. By comparison, Virginia Beach added 591 new rooms in the past two years for a total of 12,111. Their room revenue was down 9.7 percent for the first three months of the year – comparable to Richmond — and the average daily room-rate was down 2.5 percent.
Tim McFarlane, director of group sales at the Holiday Inn Select-Richmond Koger Conference Center, said in 22 years at the property he's never had as bad an April as last month.
"In a 30-day time-period you can normally expect about 30 leads for group business, and about eight percent of those convert to actual business," McFarlane said, "This April I had six to eight leads, total. I never want to see another April like this again."
"We were down 10 percent in revenue on hotel rooms in the first quarter," Jack Berry, president & CEO, Richmond Metropolitan Convention & Visitors Bureau, said.
Williamsburg

In Williamsburg – where Smith Travel Research indicates 85 percent of the hotels had occupancies of less than 40 percent year-to-date — the situation is even more dire than in Richmond. A handful of properties have closed, according to STR's list, though in some cases, new properties have opened in their place.
"Right now my goal is to bring one more family to Williamsburg to spend one more night," said Alvin Garrison, executive director of the Williamsburg Hotel & Motel Association.
Garrison said most of the hotels have cut their rates or are offering deals with other amenities, such as tickets to Colonial Williamsburg, Jamestown-Yorktown and Busch Gardens.
However, Wedmore Place, with 28 rooms on the site of the Williamsburg Winery, more than doubled its rooms nights for 2009 YTD compared to the same period in 2008 but had an average daily rate of $64 less per night.  "Instead of lowering the low-season rates," explained Courtney Darden, director of marketing for the Williamsburg Winery and Wedmore Place, "we added a separate category of eight rooms…which brought the rate down about $35 per night."  The European-style inn, which opened in October 2007, began including a winery tour and tasting about a year ago and added some hot foods to its Continental breakfast in the last few months.
Charlottesville

The Charlottesville area has 3,172 rooms. None have been added in the past two years, although the construction of one new upscale hotel has been halted.  Hotels in Charlottesville saw a slight increase of one percent in their average daily room rate during the first quarter over the previous year, according to Kurt Burkhart, director & CEO of the convention & visitors bureau.
But Allie Baer, marketing director at the bureau, said that some people who booked months ago for May graduation at the University of Virginia are now canceling their reservations. "We're all scrambling to sell those rooms now," she said. (The UVA graduation was over the weekend)
Sarah Riley, director of sales, Holiday Inn Monticello  added that she's "noticed a lot of the teams that play at UVA that used to spend the night are driving home after the game unless they live six or seven hours away. Corporate meetings and special events are down, so I'm working on new packages for those as well as weddings as I speak."
So what are hotels doing to cope?
Some hotels have found special promotions to be a winning strategy for busting the recession, or at least to soften its blow. Charlottesville's Boar's Head Inn is running even with last year in its bookings year-to-date and slightly ahead of last year in advance bookings (Memorial Day and beyond), according to Pat Burnette, marketing and communications manager.  "Our percentage of group package business is up over last year because of special promotions," she said.
Pete Sams, general manager, Richmond Omni Hotel,explained the Omni's new discounts for advanced bookings:  15 percent discount for 21-days' advance booking and 10 percent for 14-days' advance.  It's also offering a government per diem rate ($123), which it hasn't done previously. Bookings at the hotel have dropped about 8 percent this year from this time in 2008.
As a property that formerly got a lot of business from Wachovia Bank, the hotel is diversifying its occupancy.  The staff has a relationship with Fort Lee, as do other area hotels particularly in the Colonial Heights/Chester/Petersburg area, which have identified the expansion of the Army post as a major opportunity.
Jody Moore, director of sales for Commonwealth Park Suites, said for the first time the hotel is offering occasional room rates on the Internet for $89—last year this time her lowest rate was $109.  To attract more meetings business, she has reduced room rentals and audio-visual costs, on top of a no-minimum food-and-beverage requirement.
Mark Yardis, vice president of operations for Shamin Hotels, the largest hotel-management company in Central Virginia, said they are also trying new things to lure guests. Shamin's Holiday Inn Express Chester now offers a $25 food-and-beverage credit for use in its restaurants, among other incentives. Another tactic: offering movie tickets to the new movie theater at Westchester Commons.
To try to beat the competition, the RMCVB staff made a sales mission last month to the greater D.C. area focused on attracting more conventions.
"Our hotels are supporting trade shows in greater numbers than ever before," Berry said, also pointing to seven major conventions coming to Richmond during June and July.
Meanwhile McFarlane isn't seeing any improvement at Koger Conference Center.
"If downtown is getting group business this year, it isn't filtering out to the suburbs," he said. "Normally a city hopes to capture enough repeat group business to offset added room supply, but that's just not happening.  August and October look horrible."
The one good market for McFarlane are state-association and fraternal meetings, he said.
Richmond hoteliers were almost universally agreed on their reluctance to pull room rates down – because it's so hard to get them back up once the economy improves.
And as Americans hunt for better bargains, the State park system says business is booming. Brochures for Virginia State Parks' cabins and campgrounds are flying off the racks at statewide welcome centers operated by the Virginia Tourism Corporation.
"I've sent 20 percent more brochures to the centers than I normally do before Memorial Day because they keep running out and calling me for more," said Jim Meisner, State Parks' spokesperson.  "Our parks are definitely an economic alternative."
The revenues for advanced park reservations prove that – up 10 percent over last year, which was the second-best year on record for state parks.  Their cabin and campground revenues for the first quarter of 2009 were up seven percent over last year's first quarter.