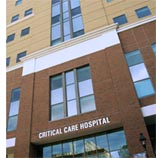 VCU Medical Center has gone almost completely paperless, putting the local hospital at the fore of a federal push to digitize records.
A company called Cerner developed the software for VCU's electronic medical records system. BizSense was unable to learn by deadline how much the switch cost the hospital.
The Missouri-based company is one of several health-care software developers in the country benefiting from President Obama's push toward digital records. The economic stimulus package passed in February allotted $19 billion to electronic medical records implementation.
Cerner receives so much business from VCU that it has dedicated staff who work on-site at MCV, said Pam Lepley, VCU's director of communications.
Lepley said that having electronic records increases the quality of care. The electronic records give doctors access to a complete record of prescriptions, treatments and conditions. They can also cut down on incidents of malpractice and the associated costs of such lawsuits, she said.
Patient privacy remains a concern. Hackers recently claimed to steal millions of patient records from the Virginia Department of Health Professions, demanding a ransom for the information.
David Larter covers the business of health care for BizSense. Please send story tips to [email protected].