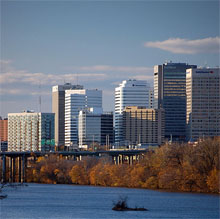 Taylor Long Properties reports a Purchase Agreement has been signed between Laburnum Partners LLC (Buyer) and Laburnum Station LLC (Seller) for 2 acres located at the Laburnum Station Development on Gay Avenue in Henrico County for the purpose of developing and constructing a hotel.  The purchase price is $775,000.
GVA Advantis reports Dynamic Associates LLC purchased 1.5 acres in Chester from Centres BFS Northeast LLC for $800,000.
Klondike Properties purchased the 1,250 square feet building at 11541 Nuckols Road for $208,725.
EPIC Pharmacy Network, a buying group for pharmacists,  leased 7,000 square feet at 8703 Studley Road in Hanover.
Usry, Inc.,a builder of mobile offices and modular buildings, leased 4.1 acres of land at 1207 School Street in Richmond.
Porter Realty reports Terry's Tire Town,a Mid-West based tire distributor, leased 90,000 square feet of at 4501 Carolina Avenue in Henrico.

Cobb Technologies, a Virginia-based copy machine dealer, leased 6,500 square feet at 4103-C W. Clay St. in Henrico.
New Clients, Inc., a local promotional products distributor, leased 4,700 square feet of office space at 12820 West Creek Parkway in Goochland.
AECOM Technologies Corp.,  a multinational engineering firm, leased 4,000 square feet at 2416 Lanier Road in Goochland.
Commonwealth Commercial reports Smoothie King, a national smoothie franchise,  leased 900 square feet at 10871 W. Broad St. in Henrico.
Dogma, an independent pet store and grooming salon, leased 2,400 square feet at 3501 W. Cary St. in Richmond.
Crop Production Services, Inc., a Colorado-based producer of genetically modified seeds, leased 1,100 square feet at 804 Moorefield Park Drive Suite 210 in Henrico.
International Special Risks, Inc., a marine insurance brokerage, leased 2,500 square feet at 730 Glen Forest Drive Suite 405 in Henrico.
Import Autohaus, a local foreign car repair shop, leased 2,500 square feet at 11002-B W. Broad St. in Henrico.
Highwoods reports The M.O.S. Group, a foreclosure outsouring agency, leased 27,000 square feet in the Highwoods Commons Building at 5101 Cox Road in Henrico. CB Richard Ellis also reported this transaction.
CB Richard Ellis reports PricewaterhouseCoopers LLC,a professional services firm, leased 10,300 square feet at 111 Virginia St. in Richmond.
AMC Technologies, Inc. leased 5,700 square feet at 15521 Midlothian Turnpike in Chesterfield.
Thalhimer reports Cheer Factory All Stars, a cheerleading camp, leased 15,100 square feet at 8444 Old Richfood Road in Hanover.
Roanoke Engineering Sales Co., Inc., a manufacturer's representative, leased 4,300 square feet at 3961 Deep Rock Road in Henrico.
A to Z Coin Exchange leased 1,400 feet in Plaza View Shopping Center in Richmond.
4 U 2 U Brands, LLC leased 1,200 square feet at 20 N. 20th St. in Richmond.
Canavan Construction leased 1,200 square feet at 500 Libbie Avenue in Richmond.