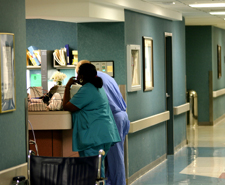 It's not quite a squeaky clean bill of health for the two big nonprofit hospital organizations in Richmond, but the prognosis looks good.
In Richmond, as is the case nationwide, thousands of workers are losing their health insurance or scrimping on co-pays by avoiding medical visits altogether. At the MCV hospital, which is part of the VCU Health System, more patients are seeking financial assistance, and at Bon Secours, the percent of delinquent patients has risen by several percentage points.
Both hospitals are still very much operating in the black, but large investment losses are dragging down their financial performance, and that could clog the pipeline for new buildings and potentially increase the cost of borrowing in the future.
Investing: a risky procedure
While the business of caring for the infirm is down slightly, both the VCU Health Systems and Bon Secours have suffered large investment losses. And that could make borrowing for future capital projects more expensive, unless those investments rebound.
Both hospitals sell bonds, and if ratings agencies think that the value of investments has fallen, they can lower the bond rating, which would mean the hospitals have to borrow at a higher interest rate. (There are some strange risks when hospitals sell bonds, and have to put up more collateral. To read more about that, click here.)
VCU Health System reported a $36 million non-operating loss for the fiscal quarter ending March 31. With that loss taken into account, the hospital will still be in the black, but with excess revenue over expenses (what would be called net income at a company) of $17.8 million. That's down from $53 million at the same time last year. The VCUHS typically runs a profit margin of around 9 percent.
John Duval, CEO at MCV Hospitals, declined to specify what sort of investments made up the loss, saying, "It's a mixed bag. We have been very conservative in our investments." Duval added that the investments do not fund day-to-day hospital operations.
Bon Secours, which has seen its investments fall around 40 percent, or about $80 million, according to Michael Spine, a vice president of business development. Spine said that the investments don't fund the day-to-day operations of the hospital.
Business as normal

In late March, the VCU Health System (which is the largest private employer in Richmond) said it could let go up to 30 employees. The final number was 11, Duval said.
In part, the lower number was due to renegotiating contracts and finding other savings, Duval said.
Patient volume is steady at the hospital. In fact, according to the hospital's most recent financial statement, the hospital was able to guess the patient volume to a remarkable degree of accuracy, predicting 24,228 discharged patients. The actual number: 24,129.
The hospital has brought in $657.7 million for the nine months ending March 31, which is 0.6 percent higher than the budgeted figure of $653.5 million.  Without an investment loss of $36 million, the hospital would have net income of about $54 million for the first three quarters of the fiscal year.
Much of MCV Hospital's patient volume is not the sort of care that can be postponed. MCV handles about 90 percent of burns in Virginia, according to the Virginia Health Information, which tracks statistics on hospitals. The hospital handles 88 percent of the transplants in Central Virginia.
Despite Virginia Department of Transportation statistics showing that automobile accidents statewide are down about 7 percent, the emergency room is not handling fewer cases. And unlike in other states, where the Red Cross is reporting that demand for blood — which is used in trauma cases — is down, the Virginia Blood Services says demand is steady.
"We have seen growth in the volume across the winter months, in particular since opening a critical care hospital," Duval said.
That's better than at the University of Virginia Medical Center, where patient admissions fell by 4.5 percent and where the hospital's budget is facing an $18 million shortfall. Cardiology admissions were down 24 percent at UVA. (You can read more about that in a solid news story from the Daily Progress)
Meanwhile at Bon Secours, which runs four hospitals in Richmond and is the sixth largest private employer in Richmond, more patients are skipping payments.
"At Richmond Community Hospital, it used to be 16 percent [that didn't pay]. That's up to 22 percent in April," said Michael Spine.
Spine added that Richmond Community Hospital usually loses about $4 million to $5 million a year, which is compensated by more profitable hospitals in the organization.
Patients at Bon Secours pay an average of $27,000 per patient, according to the VHI, but the slow-down in business doesn't warrant any layoffs, Spine said.
And fewer patients are coming in for the most profitable procedures. "I've heard elective eye cases are way down, as are elective plastic surgery cases – things that might rely on a higher out-of-pocket cost," Spine said.
The hospital is budgeting a net income of $60 million, down from $80 million last year. The profit margin for the organization is around 6 percent, Spine said.
Aaron Kremer is the BizSense Editor. BizSense is currently working on a big story about fraud at several Virginia hospitals. If you own or manage a self-insured company, please contact us. [email protected].