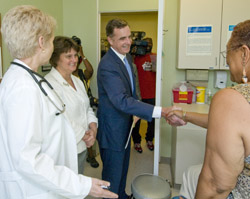 Dominion Resources donated more than $1 million to free health clinics  Tuesday, marking the occasion with a visit to the Fan Free Clinic.
Dominion chief executive Tom Farrell was on hand and said some of the funds go to the Fan Free Clinic, Crossover Ministries, Capital Area Network and Daily Planet free health clinics.
He had a handful of checks in his back pocket.
Dominion said it diverted some of the money from an employee recreational fund, which has historically been used to provide employees with benefits such as trips to Busch Gardens.
Farrell said Dominion received hundreds of e-mails in support from employees when they found out where it was going.
"We asked around to find out what the needs were in the community, and people all told us that health care was the big issue," Farrell said.
Last year, Dominion donated more than $1 million to food banks, Farrell said.
Directors of the free clinics said the donations come at a time of growing need. Volume at the free clinics in Richmond is up 25 percent compared with last year on account of the economy.
Free clinics in Richmond provide vital health services to uninsured and underinsured people. They ease the financial burden for major hospitals that loose money on providing care the indigent. In part, that's because the free clinics say they can provide $5 of hospital care for each $1 of donated money.
More than 70 percent of patients at free clinics are full-time workers who don't have insurance.
In addition to Farrell, about 10 Dominion employees were on hand at the Fan Free Clinic, helping with some landscaping.
Fan Free Clinic started in 1968 and is the oldest free clinic in Virginia. It was modeled after the Haight-Ashbury clinic in San Francisco, which served the indigent of that neighborhood.
David Larter covers health care for BizSense. A story on free clinics and their role in the economy is forthcoming. Please send news tips to [email protected]