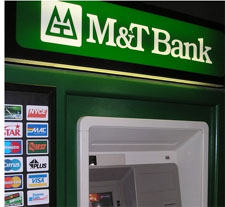 Eight local bank branches previously operated by Maryland-based Provident Bank are under new ownership.
Those banks are now run by New York-based M&T Bank and have been open under the new name for about two weeks. M&T, which also acquired three former Provident branches in Fredericksburg, has a reputation for being a big lender for SBA loans, which could be a welcome sight for local entrepreneurs.
The purchase was valued at $401 million, according to the Albany Business Review. M&T had $64.9 billion in assets as of March 31; Provident had $6.5 billion in assets at that time.
M&T said they would lay off about 29 percent of Provident's workforce, or 500 employees, but Richmond area branches are not a part of those cuts, said Hugh Newton, the new president of the Central Virginia region for M&T.
"A couple of operational positions were consolidated, but we added an equal amount of other kinds of functions," said Newton.
Newton, who was the regional president of the Greater Washington area for Provident bank, said the branches now offer mortgage-banking services that weren't available before. M&T is adding three or four mortgage bankers to service the area branches.
"We really look to Richmond as a market for growth," Newton said. "If you follow the history of M&T, you see a consistent growth story as the bank extended from New York in a southerly fashion."
Newton said they plan to grow organically in the region but will keep an eye on possible acquisitions if they become available in the Central Virginia market.
A total of 135 Provident bank branches reopened as M&T after the deal closed May 26, making M&T the second biggest bank in Maryland, second only to Bank of America.
According to their last SEC filing in May, Provident lost $67.2 million in the first three months of 2009. They also received a $151 million capital infusion from the U.S. Treasury under the Troubled Assets Relief Program in November.
M&T had a rough first quarter, with profits down 68 percent from the year before, according to the Triangle Business Journal.
M&T received $600 million from TARP in December.
For a more in-depth look at M&T, the bank was recently profiled by Fortune Magazine.
Al Harris covers banking for BizSense. Please send news tips to [email protected]