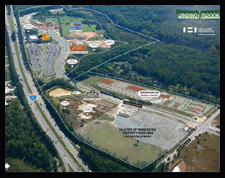 A Washington developer has pulled out of its commitment to buy and develop 36 acres inside the Winding Brook retail development in Hanover County.
Water Street Development's deal to buy the land near the entrance of Winding Brook for $13.95 million was supposed to close in December, but principal Kevin Hoffman said the company allowed the contract to expire this month.
Right now, Bass Pro Shops is the only destination in the 185-acre expanse, most of which is owned by Holladay Properties of Indiana. That project sits along Route 1 and Interstate 95 and is part of Hanover County's push to become a more dominant player in retail.
Hofmann said plans for the land consisted of 350,000 square feet of retail space. He didn't say why the company changed its mind.
But the disappearance of Water Street Development may only be a minor setback for Winding Brook.
"We're still proceeding with the concept and plan," said Kay Pangraze, Holladay's senior vice president for development in the area.
Pangraze said Holladay will either pursue that part of the project itself or find another developer to take the reins. Pangraze would not say whether Water Street Development had to pay a penalty, perhaps in the form a lost deposit, for not going forward with the project.
A timetable has been set for a separate segment of retail located elsewhere inside the development.
The Mechanicsville Local  reported yesterday that work would begin this year on the Outlet Shoppes of Richmond being built further inside Winding Brook by Horizon Group Properties of Illinois. The 375,000-square-foot project is slated to open in fall 2010. The building will be divided into two phases.
Pangraze told the Local that the outlet would be similar to the Prime Outlet Mall in Williamsburg, which includes factory stores for Coach, Burberry, Banana Republic and Adidas, to name a few. The Williamsburg outlets recently completed a new section that added a handful of new stores.
Horizon will pay $7.7 million for the 28-acre outlet mall site, according to the most recent bond disclosure agreement filed by the developers.
Hanover County took out a bond for $37 million to help develop Winding Brook. Most of the money is for sewer and road improvements, as well as the creation of a 40-acre public park.
A portion of real estate and sales taxes generated within the development will be collected by the county to pay off the debt service on the bond.
Meanwhile, there is only one store open in the area. Bass Pro Shops, the primary anchor of Winding Brook, opened last fall. According to bond disclosure agreements, the store had a good holiday season and continues to attract more than 10,000 visitors in a normal weekend. Also, the store's Islamorada Fish Company restaurant is the highest grossing one out of its total 54 locations.