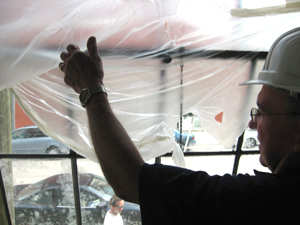 Another warehouse in Manchester is getting the apartment treatment.
The Perry Place Apartments complex is under construction in what was most recently home to Acme Paper & Supply Company.
Acme moved to a new facility in 2007 to make way for the $6.5 million conversion project.
The new apartments, located at Commerce Road and Perry Street on the Southside of Richmond, will include 70 units on three floors, a fitness center, rooftop balconies and a swimming pool.
Construction is expected to be complete by the end of summer. A model unit is expected to be ready in about 10 days.
The developers are Bill and Bob Watson, whose father bought the building in the 1960s as the site for his start-up Hamilton Paper Company.
Bill Watson said his father never would have imagined the building, which was built by the Atlantic Railroad in 1912, having potential for residential development.
"Heck, no," Watson said, standing in a nearly finished apartment that was once his office for more than 30 years.
"He'd be turning over in his grave if he could see this now."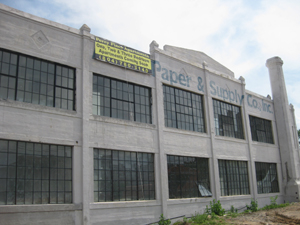 Manchester, once an independent city in Chesterfield County, is a neighborhood on the city's Southside that has suffered years of urban decay but is experiencing a renaissance. Several projects have been completed or are in the works, including the Old Manchester Lofts, Plant Zero and Savor Restaurant.
The Watson brothers worked in the paper industry for years, but both are retired. Bill said they realized the potential for the warehouse after the Southern Distributors warehouse across the street was turned into condominiums, now the Old Manchester Lofts.
Monument Construction is the general contractor for the renovation project, which is expected to qualify for about $3 million in state and federal tax grants and credits. The rest of the project was financed by Paragon Commercial Bank.
To qualify for the credits, the apartments cannot be sold as condos for five years, but Watson said he plans to keep them for rent.
"We'll let them sell theirs and we will rent ours," Watson said, gesturing toward the complex across the street.
To meet the requirements for historical tax credits, the architecture firm, Walter Parks, had to find a way to incorporate many of the building's original elements into the design. Among the most prominent aspects are the steel-framed windows, which were reworked and reframed at a cost of about $600,000, Watson said.
Old industrial elevator doors will decorate apartments and hallways. The original ventilators had to be kept on the roof of the building; they now allow natural light to illuminate the top floor hallway.
When it's complete, the building will also have some balconies on the outside and be surrounded by a black rail fence. Watson said they settled on a green color to replace the whitewashed exterior.
Shockoe Properties is managing the leasing of the building, but Watson said they haven't set prices yet for the one-, two- and three-bedroom units.

Al Harris covers real estate for BizSense. Please send story ideas to [email protected]