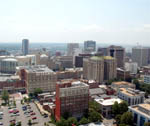 At a seminar about commercial real estate lending yesterday, the outlook was grim.
"Commercial real estate has not begun to feel the pain," said Panelist Bob O'Rourke, managing director of real estate for the Guardian Life Insurance Company.
Speaking to the 100-plus real estate and banking professionals in attendance, O'Rourke said as long as unemployment continues to rise, the demand for commercial space will continue to fall.
The event was hosted by the Urban Land Institute of Richmond and held at the Jefferson Hotel.
O'Rourke said as a landlord, leasing activity has been extremely slow.
"It's taking us six months to cut a deal, it was six days a year ago," he said.
With the present economy, tenants are struggling to make rent, and O'Rourke said his company has been extremely proactive in negotiating terms and making extensions.
"Our view is some rent is better than no rent."
The other two panelists, Stacey Berger, executive vice president of Midland Loan Services and Mitchell Kiffe, vice president of multi-family loans at Freddie Mac, agreed that the market has a while to go before it recovers.
"Commercial real estate has always been a lagging indicator, and we still have a long time to go before there is improvement," Berger said.
Berger said areas where his company has troubled commercial loans are in the same areas that have had the worst problems with residential mortgage defaults. He said until housing stages a full recovery the commercial side will continue to flounder.
One of the major issues facing large scale commercial development projects is the disappearance of securitized financing, commonly known as CMBS loans.
BizSense reported in April that there are 27 CMBS loans worth $178.2 million maturing in the Richmond area within the next two years.
For developers with loans coming due, refinancing will be a big challenge in today's credit environment. From the loan servicer's perspective, Berger said it usually in their best interest to take a discounted pay off on the loan versus foreclosing and selling the property in the current market.
His advice to borrower's facing that situation is to start talks with your servicer before the loan is due.
Moderator John B. Levy, who founded a real estate investment banking firm in Richmond, said that $240 billion CMBS loans were originated nationwide in 2007. So far in 2009, there has been zero.
The panelists were equally stumped as to when and what kind of financing would take the place of CMBS, but all agreed it would have to involve some sort of securitizing through capital markets.
Berger said it could resemble the stimulus program called Term Asset-Backed Securities Loan Facility, or TALF. TALF is a $1 trillion program that according to the Wall Street Journal will allow large investors to "obtain cheap credit from the Fed and use the money to buy newly issued securities backed by such loans." So far TALF has been limited to backing securities for things like small-business loans, equipment loans, and rental contracts, but Berger said a similar program may end up being put together for real estate.
Kiffe, from Freddie Mac, said they recently securitized a $1 billion in multi-family mortgages.
"We think we are going to securitize more of our assets," Kiffe said.
Kiffe said he believes multi-family building will be one of the first segments of commercial real estate to recover.
While rents are flat or down, as well as return on investment, Mitchell sees the growing population of people aged 18-24 as a big driver for the multi-family market.
On the flipside, he said homeownership, which peaked at 69 percent, is falling and will likely continue to decline.
"It proved with the economical debacle we are in it was a bad experiment," Mitchell said referring to the government policies promoting homeownership and loose underwriting that contributed to the crisis.
Al Harris covers commercial real estate for BizSense. Please send news tips to [email protected]