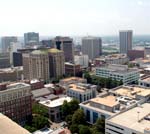 Thalhimer reports Dr. Laura Regan, doing business as James River Dermatology, purchased the 3,000 square feet office condo at 1316 Alverser Drive in Chesterfield from Village Bank for $575,000.

Grubb & Ellis | Harrison & Bates reports Health Diagnostic Laboratory leased 8,300 square feet at 737 N. Fifth St. in Richmond.
Faith Partners Care Group, a rehabilitation provider, leased 3,800 square feet at 1510 Willow Lawn Drive in Henrico.
Specialty's Our Name, a sheet metal fabricator,  leased 3,000 square feet at 11232 Hopson Road in Hanover.
Liberty Property reports Synergy Systems, Inc. leased 9,000 square feet at 4510 Cox Road in Henrico.
CB Richard Ellis reports Staples Contract & Commercial leased 4,250 square feet at 3957 Westerre Parkway in Henrico.
Ultimate Karate Academy leased 4,000 square feet at 1101-1135 Alverser Drive in Chesterfield.
Proseal America Inc., a manufacturer of heat sealing products for the food service industry,  leased 3,330 square feet at 7361-7491 Whitepine Road in Chesterfield.
Harlan Wines, LLC leased 3,200 square feet at 5631-5641 Corrugated Road in Henrico.
Future Brands LLC leased 3,000 square feet at 5309 Commonwealth Center Parkway in Chesterfield.