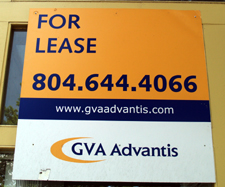 GVA Advantis announced Monday it is closing some of its Mid-Atlantic brokerages but not the Richmond office, which lists 24 employees on its website.
The Washington, D.C.-based company said in a statement it will shut down offices in Newport News and Northern Virginia but the company said it will remain in the property management and construction industries. The company blamed the closures on the recession.
Several of GVA's Richmond brokers reached by phone said they did not know more details about the situation. Others declined to comment.
Meanwhile the heads of several local competitors said GVA brokers had not approached them about jobs. In Norfolk, several of the most productive brokers have left for other firms.
"There are some great professionals in that office," said Scott Adams, a regional president for CB Richard Ellis. "My assumption is that they (the brokers) are trying to take that practice to another ongoing platform." The GVA brokers likely want to stay together as a group, Adams added.
As to why the Richmond office escaped the chopping block, Adams said that perhaps the Richmond GVA office is profitable unlike the branches that will be closed.
"The overall economy and conditions for a real estate brokerage are very challenging," Adams said.
GVA Advantis also has a construction and property management division, which will not be affected, according to the company. The construction business, which has an office in Richmond, has been the most profitable part of the company accounting for more than 75 percent of revenue, according to a statement.
To read more about the company's struggles, click here.
Advantis Holdings, the parent company, will also end its affiliation with GVA Worldwide network in several months.
Aaron Kremer is the BizSense editor. Please send news tips to [email protected]