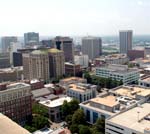 Thalhimer reports Petco, a national pet store chain, leased 14,600 square feet at Staples Mill Square in Henrico.
Grubb & Ellis | Harrison & Bates reports Wessam Haboush purchased the 2,350 square foot retail building at 7010 Three Chopt Road in Richmond for $400,000 from John Heisler.
Virginia Cabinetry leased 12,500 square feet at 1221-1223 School Street in Richmond.
El Ranchero Mexican Restaurant leased 4,000 square feet at 11521 Midlothian Turnpike in Chesterfield.
Big South Wholesale leased 3,000 square feet at 9415-C Atlee Commerce Boulevard in Hanover.
1701 Enterprises, LLC leased 2,000 square feet at 2008 Tomlynn Street in Henrico.
Michael Edward Layne leased 2,000 square feet at 9410 Atlee Commerce Boulevard in Hanover.
James River Massage Therapy leased 1,000 square feet at 3001 Hungary Spring Road in Henrico.
CB Richard Ellis reports Evergreen Enterprises, a distributor of home-furnishing products leased 24,000 square feet at 4667 Carolina Ave. in Henrico.
Ewing Bemiss & Co., an investment banking firm, sublet 10,480 square feet from Wachovia at 901 East Byrd St. in Richmond.
DVA Healthcare Renal Care leased 7,000 square feet at 8801-8815 Three Chopt Rd. in Henrico.
Efficiency Management, LLC leased 5,160 square feet at 16001 Continental Blvd. in Colonial Heights.
Divaris Real Estate reports Rugged Wearhouse leased 14,111 square feet at Circuit City Plaza in Henrico
K-Beauty -leased 2,500 square feet at East Town Plaza.
Taylor Long Properties reports C&C Hair Company leased 1,300 square feet in the Courthouse Place Shopping Center at11500 Busy Street in Chesterfield.