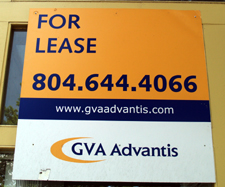 Seven GVA Advantis brokers left the troubled firm last week and are starting a local office of Jones Lang LaSalle, according to Matt Braun, a GVA broker who is also head of GVA's Richmond construction division.
Leading the pack is Charles Polk, who was GVA's all-time top-producing broker.
"After 21 years, I have resigned from GVA Advantis and am heading up Jones Lang LaSalle in Richmond," said Polk in a recorded voicemail greeting. Polk did not return calls from BizSense by deadline.
The local brokerage division may close now that the highest producing brokers are gone.
Jones Lang LaSalle is publicly traded, professional services firm based in Chicago, with about 170 offices worldwide and global revenue in 2008 of $2.7 billion.
Polk's clients have included such names as Capital One Services, J.P. Morgan Chase, Lumber Liquidators, McGuire Woods, Universal Leaf, VCU-Health Systems and Wachovia Bank.
The Richmond office of GVA  had 17 brokers, according to a ranking of local commercial real estate firms that appeared in Virginia Business. That puts the firm fourth behind: Thalhimer (40 brokers) CBRE (33 brokers) Grubbs & Ellis | Harrison & Bates  (27). But with 12.4 million square feet of leasable space, GVA had the second highest amount of product behind Thalhimer.
Both the construction and the property management divisions are still running, Braun said, adding that he will be bidding on a project next week.
Several back-office support staff members, including in marketing, have been laid off, Braun said.
The website lists 24 workers.
Meanwhile, Jamie Thomas, the managing director, has left and joined the First Potomac Realty Trust. Thomas did not return several calls seeking comment.
"Richmond was always very profitable, even today," Braun said. "But the brokers decide where to go, and they have to look out for themselves."
A similar race for the exits occurred in Norfolk, but rather than start a new branch, GVA brokers there joined existing firms. (You can read about that here).
According to Braun, the downtown office is still open to support the construction and the property management division.
GVA's placards are still up all over town advertising space.
Last week, GVA announced it was closing offices in Northern Virginia and Newport News. But because the Richmond office was profitable, it wasn't cut.
In a great Washington Business Journal report, the head of the company, Jeff Neal, said that transaction volume is down from 60 to 90 percent from the market peak in 2006 and 2007. It's a must-read for anyone in commercial real estate:
"With fewer tenants looking to move — much less expand — the lease deals that did happen were for less space, shorter terms, lower rents and smaller commission rates, Neal said. "A typical 15,000-square-foot client, rather than signing a new 10-year lease to expand to 20,000 square feet, would instead sign a two-year renewal on its current lease, oftentimes handing back unused space."
Said Neal, "In 2007, we'd get $100,000 from that deal, and we'd use it to pay secretaries, keep the lights on, hold the holiday party."
Aaron Kremer is the BizSense editor. Al Harris contributed to this story. Please send commercial real estate tips to [email protected]