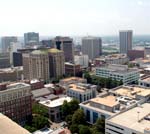 Grubb & Ellis | Harrison & Bates reports the following transactions:
Richmond Volleyball Club purchased the 73,500 square foot former Brown Distributing facility at 2921 Byrdhill Road in Henrico for $2.4 million.
Bruce Howard Contracting, Inc. purchased 57 acres on Chambers Road in Charles City County from the Lexington Corporation for $1.12 million.
Indecor Group, trading as Benjamin Moore Decorating Center, leased 16,250 square feet at 4307 W. Broad St. in Richmond.
Efficiency Management, LLC leased 5,400 square feet at 16001 Continental Boulevard in Chesterfield.
Thalhimer reports the following transactions:

The Kane Company, an office services company, leased 48,500 square feet at 11810 N. Lakeridge Parkway in Hanover.
Rugged Wearhouse leased 14,100 square feet at 9990 W Broad St. in Henrico.
River City Dance Theater LLC leased 3,200 square feet at Robious Hall Shopping Center at 10058 Robious Road in Chesterfield.
Subpoena, Inc., a legal support services company, leased 1,800 square feet at 11551 Nuckols Road in Henrico.
Soccer Post, a retailer of soccer sports equipment,  leased 1,350 square feet at 4808 Commonwealth Center Parkway in Chesterfield.

Liberty Property Trust reports the following transactions:
Ondal USA, Inc., a medical supply distributor, leased 40,000 square feet at Woodlands III, 540 Eastpark Court in Henrico.
Robson P.C. leased 1,600 square feet at 4198 Cox Road in Henrico.