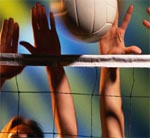 Richmond Volleyball Club purchased the 73,500-square-foot former Brown Distributing facility in Henrico for $2.4 million.
The club currently leases two locations, one in the West End and one downtown, which will be closed when the new facility is ready.
The new facility will have 12 courts, concession areas and a pro shop. The property is 13 acres, and plans call for additional sand and grass courts.
Executive director Darcy Carroll said they hope to occupy the complex in January. The nonprofit sports club was started in 1981 and has about 2,500 members. Carroll said the group is growing despite the economy.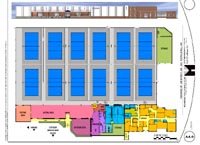 "We're still seeing growth. Volleyball is a great sport for any age," said Carroll. "It's a great stress reliever."
The club's adult members pay $50 a year in dues, in addition to team fees of about $6 to $8 a person when they play. The club also has a junior league of 40 teams that plays from January through June.
Architect Jim Byerly, president of HuffMorris Architects and a club member, donated his time to design plans for the new project. Graybeale Construction was selected as general contractor.
Al Harris covers commercial real estate for BizSense. Please send news tips to [email protected]