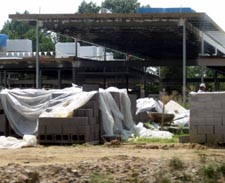 One the edge of Richmond's Northside, a local nonprofit is building a $12 million headquarters and facility.
The Greater Richmond ARC has provided support and job training for people with developmental disabilities for more than 50 years. For the past decade, the organization has been working on plans to move from their current address at Westwood Avenue and Lanvale Street, a retrofitted tractor-trailer repair facility.
The new facility is being built around the corner at 3600 Saunders Ave. ARC purchased the property in 2004 for $2.6 million. At the end of last March, a warehouse on the property was demolished, and work on the new building began.
It couldn't have come at a better time for the organization, according to Douglas Payne, director of communications.
"One of the things about this economy, people everywhere are hurting for jobs, and, statistically speaking, folks with disabilities have twice as difficult of a time," said Payne. "The unemployment rate shoots right up, usually double the national average."
The new facility will increase ARC's capacity by 20 percent, allowing them to provide therapy and services to even more individuals when it opens next spring.
The 24,000-square-foot building will be used for infant and child development services, after school, adult day support and administrative offices. ARC will keep their current 50,000-square-foot facility, much of which is unused, for industrial training programs.
"We have an opportunity for first time in many years to go in and redo large sections, have a workshop in there where we put together computer component parts, hand assembly, and shipping and mailing training," Payne said.
About half of the new facility is financed by a $6.6 million bond, $2.7 million is government funded and $1.6 million is from the organization's assets and reserves. The remaining costs come from private donation.
ARC also has a camp facility called Camp Baker in Southside and an office at the Bellwood Defense Supply Center that provides janitorial and landscaping training.
Because of ARC's model, they have been somewhat insulated by the recession's effect on charitable giving.
"We are a nonprofit, but we try to run the organizations like a for-profit business by employing business practices that have helped us survive in an economic downtime," said Payne. "We charges fees for service and do not rely entirely on charity."
More than 80 percent of the organization's revenue comes from fees paid for service, most of which is paid by Medicaid and private insurance, Payne said. In 2008, ARC's revenue was $11.75 million.
But the economy has caused ARC to delay plans for an outdoor park and tree house that was supposed to surround the new facility.
Construction is being completed by Kjellstrom and Lee of Richmond.
Peter Alcorn, president of the construction company, said he is excited to have the project and has worked on it for several years to get it ready.
He said about 30 workers are on site.
Because of the economy, much of the construction work available has shifted to the public sector.
"We've always done both," said Alcorn. "If you look at the private companies here in this town, they've held back on their spending because of the economic challenges, but we expect to see that loosen up soon."
"Most of the work is coming from the public sector and not from the private sector."
Kjellstrom and Lee are also working on the $38.2 million Cary Street Gym expansion for Virginia Commonwealth University.
To see the ARC facility construction in progress, the organization has a webcam here.

Al Harris covers commercial real estate for BizSense. Pleases send news tips to [email protected]