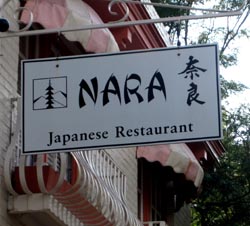 Sayonara Nara.
After four years in business, Nara Sushi at 1309 W. Main St. has closed.
In a city that has been inundated by a tsunami wave of sushi bar openings over the last couple years, Nara carved out its niche by hosting punk rock and heavy metal shows in its basement.
But no more.
A sign on the door says the restaurant has closed for vacation, but an employee reached by phone confirmed that the restaurant had closed for good.
On the next block over Main Street Java has also closed. But plain brown paper has been stuck to the windows as well as signs announcing new owners. An ABC application in the window gives Rev It Up as the new name, and is signed by David and Sharon Taylor. The new coffee shop is hiring for all positions.
Al Harris covers the restaurant business for BizSense. Please send news tips to [email protected]