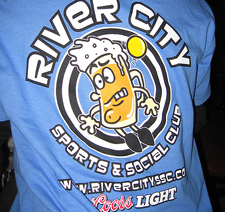 This story first ran in 2008.
From afar, it looks like gym class.
Only the guy rolling the rubber ball toward home plate has a 5 o'clock shadow and a beer gut. And the girl playing first base, wearing makeup and tight tube socks, just told her friend she's f*$#ing awesome.
Everybody clearly drove to the park. Some seem to be drinking from plastic Solo cups.
Blame Sean Smalls.
Six years ago, the Mechanicsville native and VMI alum started the River City Sports and Social Club to let Richmond adults get back to simpler times. The local entrepreneur has built a rapidly-growing business by selling whiffle ball, dodge ball, kickball and flag football to Richmond's out-of-college crowd.
The rules of the River City Sports and Social Club state that all participants must be at least 22 years old. The older participants are pushing 40.
Some participants seem to regress to fifth grade when they don the bright T-shirts. Ejections are common; trash talking, the norm. In five years, strong rivalries have developed. That's despite the fact that the league is designed to be social.
All that horsing around has built a solid business for Smalls. Each team of 12 participants must pay a flat fee to join a league: $550 for football and kickball, and $600 for dodge ball, whiffle ball and volleyball.
"The first year, there were maybe 20 teams.  Now, we're seeing 60 teams, and we're dealing with multiple leagues and sports," Small said.
Now consider the fact that there are usually 16 to 20 teams per league, and there are at least two divisions per sport. (One is more competitive than the other, although people in both discuss the playoffs like it's the NCAA tournament.)
Small also brings in revenue from sponsors such as Coors Light and several local bars. He said most of the money goes directly back into the league, paying for field rentals, team T-shirts and championship belts.
Small attributes the rapid growth to word of mouth.
"At first, I was putting fliers in bathrooms at bars, and I even put an ad in Style Weekly," Small said.  That was the extent of his advertising, however, and now he's glad that he didn't spend unnecessary funds.
As each season passed, more and more people signed up. If RCSSC gets much bigger, Small said that he will have to branch out and find new athletic venues to hold all of the various leagues and sports.
RCSSC's list of sponsors includes Banditos, Easy Street, Mulligan's, Sine Irish Pub, Out of Bounds and the Home Team Grill.
Rick Lyons, a manager at Banditos, said he sponsors the games because the participants are his target demographic.
"They help to create an atmosphere, which is important when you're claiming to be a sports bar," Lyons said.
"So when 100 people come back to the bar, hang out, drink beer and watch sports, it creates a buzz.  It's all positive,"
Patrick Sanford, general manager at the Home Team Grill, said their deal with RCSSC has been a great opportunity for both sides.
The scores of kickball teams that came in during the past few months have helped carry the Home Team Grill through a relatively lackluster summer, he said.
"We would love to be the spot, whether we are sponsoring or not, where they come to socialize after games," Sanford said, noting the possibilities for business from such a large and vibrant group of 20- and 30-somethings.
Teams are encouraged to go to their sponsor's bar after games in order to socialize with other league members and teams (in fact, this is specified in the rules.) Small said this gives people a chance to network in a comfortable environment and is one of the reasons that people keep coming back to the RCSSC.
From the official RCSSC rulebook: "The league's focus is on being social, not winning or losing."