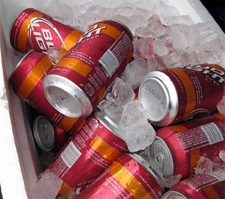 There might be a new must-have item for tailgating at college football games this year.
Bud Light is selling college-themed cans in the colors of the dear old alma mater, but the promotion is causing a ruckus off the field.
Brown Distributing, which handles Bud Light, said it has four college-themed cans. The company said it can not say which schools' colors the cans are meant to resemble, but a few are obvious.
Brown said the cases are selling out now that students are back on campus. This is the first year of the promotion.
Black and gold: VCU
Maroon and orange: Virginia Tech
Blue with red stripes: UR or possibly UVA
Red with white stripes: We aren't so sure. Any ideas?
You can read some chatter on a UVA sports discussion board here.
The college-themed cans have caused a stir, according to a great story in today's Wall Street Journal. Twenty-five schools have asked Anheuser-Busch to stop selling the cans:
"Many college administrators contend that the promotions near college campuses will contribute to underage and binge drinking and give the impression that the colleges are endorsing the brew."
BizSense take: Brilliant. First, Bud Light doesn't have to pay for any copyright or pay the schools because they are not using an official license or logo. Second, it could be just the thing to make a student on a beer run pick Bud Light over Miller Light or PBR.
And, let's face it, college kids buy a lot of beer.