Mike Dumont is still building million-dollar houses in the Richmond area. They just don't have the quirky details or long lists of amenities that they would have had two years ago.
"We're putting GE instead of Wolf appliances in the kitchens," says Dumont, president of Dumont Custom Homes. "And we're just doing wiring for the home theater instead of adding the equipment."
The flailing economy has clearly affected the high-end residential building market by shrinking the pool of homebuyers who can splurge – or borrow enough to splurge – on building big new homes. It's also lowering costs and shrinking houses. But Dumont and other builders say that Richmonders aren't cutting their budgets so much as they are focusing on quality instead of quantity. Relatively speaking, small, quaint and more efficient is the new standard for custom housing.
Dumont specializes in houses costing $600,000 or more and builds mostly in Midlothian, Henrico and Chesterfield. Houses used to be up to 4,500 square feet, Dumont says, but now he is drawing houses as small as 2,300 square feet. His clients are mostly doctors, business owners and new residents moving to the area. They are removing living rooms and upstairs bedrooms, he says, and leaving out amenities such as pools, home theaters and central vacuum systems. "Banks just aren't financing the ultra-luxury items," he says.
Not only are houses smaller, but builders say they are cutting costs by making the plans simpler. They are "squaring up" the house for a rectangular footprint, which is cheaper to build than a plan with lots of jutting angles, and they are removing flourishes like multiple rooflines or extra windows. To pretty up the boxy plans, Dumont adds pricey visual details like wooden columns. He says clients don't notice the changes, which have lowered his building costs overall by up to 10 percent.
Chris Parks of Boone Homes says that although his clients are more cost-conscious, they aren't foregoing luxury. "It's like going from a Suburban down to a Ferrari," he says. Clients used to want larger and cheaper but are now focusing on smaller and more carefully thought-out. "It's more compact, more efficient," Parks says.
Like Dumont, Parks is using more squared-up floor plans but adding wood and other ornamental details to dress them up. His clients are still building houses that cost more than $400,000, but instead of buying the square footage of a McMansion, they want a smaller space with more charm.
Even high-end clients are thinking of ongoing costs and maintenance, he says. They want tankless hot water heaters, efficient heating and cooling systems, and Energy Star kitchen appliances. "They aren't just buying whatever looks good," he says. "They're researching what's going to save them money."
Higher-end builders might not be seeing much of a change in client spending, but the overall price of a new house has dropped 20 percent since the high of 2007. Homeowners are now paying an average of $238,347. Builders are struggling to cut costs for these lower-priced and middle-range houses, a trend that's likely to continue until the recession ends.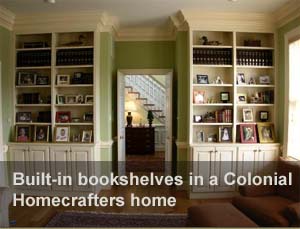 Eddie Goode of Colonial Homecrafters focuses on homes starting at about $130,000. He builds a lot of "empty-nester" houses for age-restricted community living. He says that for his 3,000- to 4,000-square-foot houses, cost can be an issue, but clients still want high-end appliances and nice bathroom fixtures. "We get our price down with labor, not materials," Goode says.
Goode is also a developer, and he sees lot sizes affected by the economy. "Home affordability begins with lot price," he says. "About two years ago, we forecasted out a need for smaller homes. We started developing smaller lots in our neighborhood in Honey Meadows, Hanover County."

Doug Cole is president of Design Forum, a landscape design /urban planning firm that also began focusing on smaller lot sizes several years ago. "Before, you may have had an 80-foot-wide lot," he says. "Now people are considering one 60 feet wide."
That doesn't have to feel like a budget compromise, Cole says, if the community is well planned. For example, people are willing to live on a small lot if it's across the street from a small park. "A lot of people like the Fan concept, even if they don't want to live there," he says.
Smaller lot sizes may also mean making design changes like removing side windows that look onto a closely placed neighbor, architects say. James McAllister of McAllister and Foltz says his firm is doing boxier designs for smaller lot sizes, but that clients aren't necessarily paying less for those plans. "We're still doing houses in the million-plus range," he says. Those houses have dropped from an average of 4,500 square feet to more like 3,200.
"We are paying more attention to energy efficiency," he says. "Also, we are more efficient in the construction assemblies and in the design." Now McAllister's plans often delete multiple living spaces, offering a family room or living room, but not both. "The houses are smaller and more opened-up."
McAllister says the firm is specifying more off-the-shelf materials and trim and fewer custom products.
Jay Hugo of 3North architecture firm hasn't seen much of a decrease in spending from clients, but he says the focus has changed. "Rather than trying to use the least expensive construction system to generate as much square footage as possible, folks are going smaller." He says clients are trending away from things like drywall in favor of plaster or clay. "They want more wood in the interior," he says. "Those are higher cost items with more detail and character."
The focus on older materials comes from Hugo's extensive remodeling work. "Existing homes are so much more substantial, with more detail," he says. And here Hugo has put his finger on the real growth area in the residential market: His average remodeling project involves an extensive overhaul and addition to an existing house, at a cost of $750,000 to $3 million.
"People like their neighborhoods," he says, and so they are willing to essentially build a new home within the existing framework of the old one. "When the market is so soft for selling homes, that inclines people to just stay where they are."