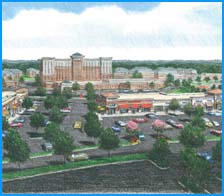 A Virginia-based outdoors gear and apparel shop is upping its game now that a national chain has come to town.
Blue Ridge Mountain Sports, a Charlottesville-based chain that sells camping and hiking gear such as tents, sleeping bags and fleece jackets, just signed a lease for 8,000 square feet at Towne Center West, a new retail development west of the Short Pump Town Center mall.
This will be Blue Ridge's third store in Richmond – they have locations in Chesterfield Towne Center mall and also closer to Gaskins Road at 10164 West Broad St. – and also their biggest. Blue Ridge also has a store in Williamsburg and a flagship store in Charlottesville.
The other stores in Richmond are closer to 4,000 square feet, according to Nick Orrell, manager at the West Broad store.
Jeff Smith, the president of the company, did not return several calls seeking comment.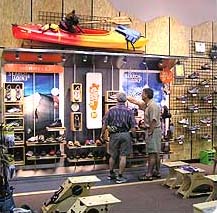 "The new store is going to have some higher-end outdoors merchandise," Orrell said, "and the store we're in now, the plan is to turn it into an online and outlet store. We will have a station where customers can order online."
Brenda Martin, who is working on the project for the developer, the Breeden Company, said that Blue Ridge wants to open in October. Construction should begin shortly, she said.
She also said Breeden and Blue Ridge had been working on a deal off-and-on for more than a year and a half.
Blue Ridge might have felt a new sense of urgency when REI opened a 26,500-square-foot store in November. REI sells a lot of the same gear and apparel and also sells biking gear, which Blue Ridge does not.
Orrell said that the outlet store will get closeout merchandise from some of the premium brands, like Mountain Hardwear and North Face. The outlet concept will also sell discounted merchandise that's not sold from some of the other locations.
Orrell said Blue Ridge sells to two main types of customers: avid outdoors enthusiasts and lifestyle consumers, who don't necessarily need a down puffy coat by the top brand but like it nonetheless.
He said that he has not seen a big decline in business since REI opened. "Maybe the pot has gotten bigger, with more people aware of outdoorsy stores in Richmond," he said.
"But we're hoping people still shop local, and we're hoping our customer base enjoys the time they spend inside our store."
The new store will be part of an in-line retail development in front of the new Short Pump Hilton, according to renderings from the Breeden Co.
Aaron Kremer is the BizSense editor. Please send news tips to [email protected]