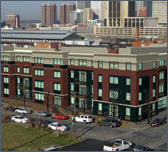 More apartments are coming to Shockoe Bottom.
George Emerson of the Emerson Companies said his firm is breaking ground this week on a 204-unit complex at 18th and Broad streets to be called the Cedar Broad Apartments.
Emerson said the project had been in the planning and financing stages for about three years, but his development company just closed on the property about two weeks ago. The company purchased the 2.1-acre site from BAT Properties for $3.2 million. The total budget, including acquisition, is about $19 million, he said.
"As an owner, it couldn't be a better time to be building," Emerson said. "It's been good for us, and we are excited."
The building will stand four stories tall and consist mostly of one-bedroom units. It will also have 110 covered parking spaces and 8,448 square feet of retail space. The property includes an existing McDonald's restaurant, which will remain, and the apartment building will be constructed on the rest of the block, which is currently a parking lot.
Emerson's company recently completed a 330-unit complex in Chesterfield at Route 10 and Interstate 95 called the White Oak Apartments, which are about 80 percent leased, according to Emerson.
As for the new project in Shockoe, Emerson said he isn't worried about filling them up.
"We already own a couple of hundred apartments down there, and they stay pretty much occupied. We're staying at 96 to 97 percent," Emerson said. His company also owns the 153-unit American Tobacco Center one block away.
"I think by the time we finish, we'll be coming out of this recession."
He said construction is expected to be complete in the spring of 2011. Walter Parks Architect served as the architect for the project, and KBS Inc. is the general contractor.
Several other projects are underway in the area, including the apartments at Richmond Cold Storage by Historic Housing and at Shockoe Valley Heights by Sensei Development. Emerson said the primary demographic for his and other projects is MCV and VCU students.
New apartment projects in Shockoe will potentially bring hundreds of residents into the area, growth that Shockoe Bottom Neighborhood Association President David Napier said he is happy to see.
"I know the businesses down here are more than ready for it," Napier said. "It is good for the city, the tax base and the businesses that are down here."

Al Harris covers commercial real estate for BizSense. Please send news tips to [email protected].