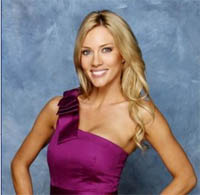 Departures:
Twenty-eight-year-old Richmond model Rozlyn Papa was eliminated from "The Bachelor" after allegedly engaging in what the show termed an "inappropriate relationship" with one of the dating show's producers during filming. You can read more here.
John A. Young has resigned as CEO of Colfax Corp., a Richmond-based company that sells pumps and valves to heavy industry. Young had been at Colfax since its founding in 1995. He was replaced by Clay H. Kiefaber, 54, who was a vice president at Masco Corp., a Michigan-based kitchen and bath cabinetry company. You can read more in a Times-Dispatch story here. Kiefaber has an MBA from the University of Colorado and a BA from Miami University.
New Hires:

Investing:
RiverFront Investment Group announced three additions to its business development team.
Scot Winter, who had been working with RiverFront for the past 18 months on a consulting basis, joined as regional director for the Southeast. Winter retired in 2007 as Wachovia Securities' Southeast Regional President — Private Client Group.
Mary Sexton joined RiverFront as regional director for the West. Sexton served as a managing director and the assistant director the financial Services Group of Wachovia Securities.
Kathy Wommack joined RiverFront as an internal marketing associate responsible for helping financial advisors who use RiverFront's products. Wommack worked with RiverFront partners while they were at Wachovia Securities and was responsible for all communications with Wachovia Financial Advisors from Wachovia Securities' Advisory Services Group.
Chris Wilkinson joined Newport-News-based MICG Investment Management as the Richmond branch manager. Wilkinson is a former UBS Business Development Coach for the state of Virginia. Wilkinson went to VCU.
Technology:
Maria Tribble has joined ON24 as a senior account executive covering the Mid-Atlantic and South East regions. Tribble, a graduate of Virginia Tech and The Collegiate School, previously worked at PrecisionIR Group in Richmond.
Accounting:
Richard O. White joined Keiter Stephens' office in Charlottesville. Prior to joining Keiter Stephens, White was a co-founder of Hoffman, White & Company, P.C., a tax and business consulting practice in Charlottesville. White is a graduate of UVA and is a co-founder of Charlottesville Business Innovation Council (CBIC).
Gary G. Wallace joined Keiter Stephens' Richmond office as a principal. Prior to joining Keiter Stephens, Wallace was the CFO for The Riverstone Group, LLC, and CCA Industries, Inc. Wallace holds an MS and BS in accounting from UVA.
Legal:
Broderick Dunn joined Sands Anderson Marks & Miller. Dunn was previously at Hirschler Fleischer. He earned his law degree at Washington and Lee University School of Law and his undergraduate degree at Williams College.
Former Virginia attorney general Jerry W. Kilgore and former chief counsel to the attorney general Christopher R. Nolen joined the lobbying arm at McGuire Woods. Kilgore will become a senior advisor at McGuireWoods Consulting, where he will serve the firm's government affairs clients nationally. Nolen will be a senior vice president for state government relations and will assist clients with Virginia lobbying efforts and regulatory issues. Both Kilgore and Nolen also will be McGuireWoods LLP law partners.

Kilgore was previously at Williams Mullen. He was Virginia's attorney general from 2002 to 2005 and received his bachelor's degree from Clinch Valley College (now the University of Virginia's College at Wise) and his law degree from William and Mary.
Nolen was recently at Williams Mullen. He previously served in the Virginia attorney general's office as special counsel, then chief counsel, to the attorney general.  You can read more about both in a Times-Dispatch story here.
Hospitality:
Jennifer Robbins joined the Westin Richmond hotel at 6631 West Broad Street as sales manager.

Boards:
Joe Oliver, the president of Retail Data and a former CEO of S&K Menswear, has been appointed to the board of Sands Research. You can see the release here.
Please send HR notices to [email protected]