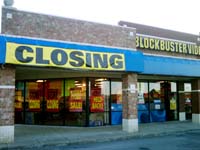 The internet killed the video store.
The Blockbuster outlet at 5620 Brook Road in Henrico will close Feb. 14. A going-out-of-business sale is underway with all pre-viewed movies 30 percent off. That means you can snag a DVD for between $3.99 and $9.99.
Meanwhile, on East Main Street near Tobacco Row, a former Hollywood Video store closed and has been reborn as a Subway.
The discounts at Blockbuster will increase at the beginning of each week by 10 percent, according to an employee.
In September, the Dallas-based video rental company announced that it would close 40 percent of its stores by 2011, as many as 960 stores. The chain has 19 locations in Richmond. An employee said the Brook Road location was the only one closing at this time.
There's more than just movies for sale. All fixtures and furniture, even the carpet, was for sale. The wire frame racks that hold the movies were for sale for $75 each, or three for $100. There was a security system for sale for $500.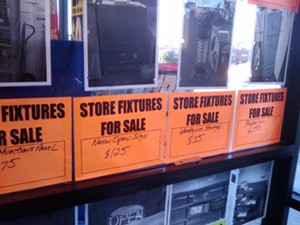 Blockbuster spokeswoman Michelle Metzger said that while the company is closing hundreds of its physical locations, the company is stepping up other avenues to reach customers, including rentals by mail and streaming on enabled televisions and video players. Metzger said the company plans to deploy 10,000 video kiosks by the end of the year that will be located at grocery and convenience stores.
"Blockbuster is not going away but transforming our business to be where our customers are going," said Metzger.
The company is facing increasing competition from companies like Netflix and Redbox, in addition to illegal downloading of movies. Redbox has grown aggressively in Richmond over the past year, doubling the number of automated kiosks it operates in the area. You can read about that in a BizSense story here.