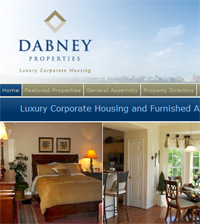 When a business says it's looking to the General Assembly for potential business, that usually means a piece of legislation that could give an industry a boost.
But Slayton Dabney caters to the legislators themselves. The bills are irrelevant to his business – he just needs lawmakers in Richmond trying to legislate.
Dabney is the owner of Dabney Properties, a corporate housing firm he started about three years ago. He provides housing to about 40 legislators and aides while they attend the session for the next 60 days or so.
Dabney leases fully furnished apartments and condos at downtown addresses like Vistas on the James, the American Tobacco Center and Old Manchester lofts, as well as suburban townhouses. He also has properties listed in Fredericksburg and Charlottesville.
Demand for corporate housing has diminished in Richmond over the past year or so as major companies have left (Wachovia Securities) or gone out of business (Circuit City). Oakwood Worldwide, a global corporate housing company with thousands of offices, closed its Richmond office.
So Dabney picked up former Oakwood employee Marian George, whom he said has been great in helping grow the business. He has hired another employee, Heather Shelton, in addition to several contractors who help maintain and service the properties.
Dabney, 33, received his master's degree in business from Georgia Tech and completed his undergraduate studies at UVA.
BizSense caught up with Dabney to ask him how he got started as well as for his thoughts on the local condo and apartment market.
Below is an edited transcript:

Richmond BizSense: How did you get started in this business?
Slayton Dabney: I wanted to own investment property. When I was still working at IBM, I bought a townhouse and lived in it for six months. I furnished it and set it all up to be a corporate unit. I said to my roommates, "If I can rent this out as corporate housing, would you move with me to another townhome?" They said yes, so I advertised on Craigslist. I had an executive from MeadWestvaco contact me, and he signed a six-month lease. Then I bought another townhouse in the same community and moved into that one.
When I left IBM, I was managing six units and was really excited about it.
RBS: So how do you get the properties you lease?
SB: We only own a couple of the properties. We have some that are lease-to-own. For the most part, we rent them from property management companies or from the owner. So we will rent an empty apartment or empty condo for X amount of money a month.
RBS: How many units do you offer currently?
SD: Right now we have about 50 individual units. All 50 are full. A big part of the reason is we keep our inventory low.
RBS: How do you charge, and how much does it cost?
SD: We have a daily rate. On average it ranges from $79 to $119 a day. It includes utilities, cable, Internet, linens and house wares – pretty much everything you need to feel at home.
RBS: How do you find properties to lease?
SD: Sometimes individual condo owners find me. Sometimes I send out a mass mailing if there is a particular building we want to have some exposure in, like one of the nice high-rises downtown. But we usually rent from property management companies.
RBS: Your biggest clientele this time of year comes from the General Assembly. How did you develop that business?

SD: This year we probably have close to 40 individuals from the General Assembly staying with us. The first year we did it [two years ago], we had around 25 folks.  I knew that it was a big market and just reached out directly with the General Assembly and offered our services.
RBS: Who are your primary customers throughout the year?
SD: The three biggest categories are relocation, folks on temporary business assignments and property and casualty insurance claims. People's houses burns down or there is a flood, and the insurance company pays for it while the construction company fixes everything.
RBS: How has your business been affected by the recession, especially with the departure of large corporations like Circuit City and Wachovia?
SD: I started this business three and a half years ago, so I've only known a bad economy. I am just doing everything I can to grow my business. I never knew what it was like when there was lots of corporate housing business and companies were willing to pay high rates because everyone was making money. I hear about that from some of our competitors.
RBS: What is your view of the downtown condo and apartment market?
SD: It seems to me there is oversupply. When real estate was really hot, developers got excited and entered into agreements to build this condo and these townhouses. Now there is a lot of inventory. And because there is inventory, it has driven prices down. It will take a while for demand to increase to the level to meet supply, and that could take 10 years to absorb.
For us it helps, because we are able to rent units for probably less than we could otherwise and enter into lease-to-own agreements for prices less than four or five years ago.

Al Harris covers commercial real estate for BizSense. Please send news tips to [email protected]