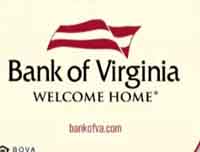 Midlothian-based Bank of Virginia has entered into a written agreement with its regulators to improve its condition.
Frank Bell, president and CEO of the bank, said the bank is well on its way to satisfying the conditions set forth by regulators.
"We had known this was coming since September, so we have been working on this," Bell said.
According to the agreement, Bank of Virginia must submit to regulators a plan that improves its loan policies, credit risk management and board oversight, among other requirements. The bank must also complete a management review and develop a strategic plan to improve the bank's earnings and budget for 2010.
Virginia Business Bank faced a similar situation in August and ended up hiring a new president. (You can read more about that in an RBS story here).
Bank of Virginia must also submit a plan to maintain sufficient capital and cannot pay any dividends without approval, and it must come up with a plan for any loan of more than $500,000 that's past due.
The bank caught regulators' attention during a scheduled examination in August.
"We made a significant contribution to our loan-loss reserves at the end of the second quarter, as a result we dropped our capital below the well-capitalized level," Bell said.
He said the bank had put $3.5 million into reserves to cover increasing loan losses. From September 2008 to September 2009, the bank's troubled assets increased from $413,000 to $5.37 million, according to regulatory filings. Troubled assets primarily include non-accruing loans and those that are more than 90 days past due.
The transfer dropped the bank's capital to $13.65 million, below the well-capitalized level. Bell said they tried to raise more capital before the bank's audit in August but were unsuccessful.
It was not until the end of December that the bank raised $4.6 million in a public offering, returning it to well capitalized. Bank of Virginia hired McKinnon and Co. to conduct the offering and sold about 1.5 million shares.
But it was too late for regulators. The process was already in motion, and on Jan. 13, Bank of Virginia entered into the agreement with the Federal Reserve Bank of Richmond and the Virginia Bureau of Financial Institutions to come up with a plan within 60 to 90 days.
Bell said that the bank has hired Strategic Risk Associates to advise them on the plan and that a plan will make Bank of Virginia a better, stronger bank.
"We are a Main Street bank that invests locally in the economy, and that is going to continue," Bell said. "We will do everything to protect our customers."
Bank of Virginia is the third bank in the state in two years to be asked to come up with a plan by regulators. Joe Face, Virginia's commissioner of financial institutions, said that more might be put in the same position if the economy does not improve. For example, Virginia Business Bank is following a plan it was required to submit to regulators.
"If the economy continues to remain slow to correct itself, there very well could be more written agreements issued. There have certainly been more issues nationwide in recent times," said Face.
As for Bank of Virginia, Face said it has already taken some corrective steps but still must complete the plan.
"When all measures have been implemented and successful, the written agreement will be lifted," he said.
As of September 2009, the five-year-old Bank of Virginia had $226.3 million in assets, $201 million in deposits and $166.1 million in loans.
Shares of the bank's stock traded down $0.08, or 2.4 percent.

Al Harris is a BizSense reporter. Please send news tips to [email protected]