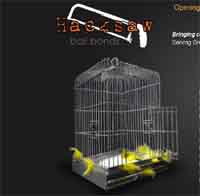 We've written about lots of former Circuit City employees as they venture off into the world of entrepreneurship, but when it comes to switching careers, it's going to be hard to top a copy writer-turned-bail bondsman.

Kent Brockwell's career path led him from business reporter to editor of Richmond.com to a copy writer for Circuit City to bail bondsman. We caught up with Brockwell to find out why he is getting into the bonding business.
Aside from the fact that its founders are a former funeral director and a journalist who happen to be brothers, Hacksaw Bail Bonds also seeks to connect clients with social services to keep them out of trouble with the law. In other words, owners Richard Brockwell Jr. and Kent Jennings Brockwell aren't necessarily looking for repeat customers.
The firm opens for business sometime in February at 901½  Hull Street, across from the new Manchester General District Court.
Richmond BizSense: Bail bonding business, eh? Why?
Kent Jennings Brockwell: I was looking for something new. My brother is a funeral director and  is now in the insurance industry. I was a journalist for a couple of years — that's what I went to VCU for.
My brother heard from some other funeral directors down toward Virginia Beach that the bail bonding industry was a pretty lucrative and interesting line of work. A lot of them did it in their spare time as funeral directors being on call overnight.
My brother came up with the idea and we talked it over over beers, and he got me pumped up about it.
RBS: How will Hacksaw Bail Bonding be different from other firms?
KB: Once I looked into it, I saw that in the criminal justice system, the numbers on repeat offenders have skyrocketed. Something I wanted to do is anything we can to help people stay out of jail. Yes, we get you out of jail when you call us to bail you out, but maybe we can keep them out.
I've been talking with people in the Richmond area about getting some social service aspect to your business. If someone gets arrested for drug possession, maybe they want a change. If they want help with that, we are building partnerships with agencies that will talk to them and help our clients. Obviously it is up to them, but why not give them a chance to have better lives?
RBS: How do you feel about leaving journalism behind?
KB: Journalism was great, being a writer was great. I had a lot of stints: I got to cover pro football, presidential races. I met Karl Rove. I don't know if that's a good thing or bad thing. But I got to hear a lot of interesting stories, and that is sort of drawing me to this. I will hear a lot of interesting stories as a bail bondsman. The stories people tell me are better than anything I'll ever write.
RBS: How do you prepare yourself for the business?
KB: Back in the day, if you wanted to be a bail bondsman you just got a gun and started doing it. A few years ago, the state started regulating the business in Virginia. Now we had to take a class, get certified and get firearms training.
RBS: How does the bail bonding business actually work?
KB: A person gets arrested and taken to jail. Usually a family member is the one to call a bondsman. We ask a few questions, call the court and find out the charges and how much bail is set for, and then we meet. The basis is on average a 10 percent fee. If the bail is $5,000, our fee is $500. Plus there are administrative and filing fees that are monitored by the state to make sure it is not excessive. Then the family has to put up collateral to cover the amount of the bond, in case the person skips out. Once there is a trial, the person is either convicted or acquitted. Once it's closed, we return the collateral.
RBS: I've heard ads on the radio about Virginians for the Preservation of Bail. What is that all about?
KB: The big thing is it's a fight against Virginia Pretrial Services. It doesn't work. Pretrial services is sort of like the court's version of bail. Instead of having a family member come in and put up collateral for your release and make sure you are accountable for your release, pretrial services let you complete a drug program and pay for it, making good money for the courts. It's not treatment so much as getting drug tested once a week, and if you do that on your own recognizance it doesn't work.
Bail is more successful; another human knows you and keeps you accountable.
RBS: Another difference between your firm and others is marketing. You're planning a big push that includes social media like Twitter. Why do you think that it will work?
KB: Bonding is pretty cutthroat. You get the call you get the bail and it's about getting that number at the top of the list. We are very disadvantaged starting up. There are some established companies out there, and they do great work.  With Twitter and social media, bail bondsmen are just starting to get into that. I'm trying to get our foot in the cyber door. The name Hacksaw helps as we well. We are going to launch a pretty big ad campaign through a variety of very visible, in-your-face avenues. We have a lot of fans and web traffic already.
RBS: How about selling T-shirts?
KB: We don't have T-shirts yet or our own brand of hacksaw. But you never know when that will come.

Al Harris is a BizSense reporter. Please send news tips to [email protected]