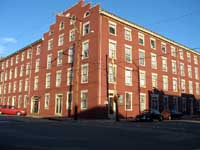 A Shockoe Bottom apartment complex is scheduled to be auctioned on the courthouse steps Feb. 9.
Shockoe Place Apartments, a 42-unit complex at 19th and Franklin streets, was built in 1853 and was heavily renovated in 2000. Renovations cost at least $1.6 million, according to city permit data. The property is owned by Shockoe Place Apartments LLC.
The owner took out a $3 million dollar CMBS loan on the property. Wachovia Bank packaged and sold the loan.
The apartment building was purchased in 1999 for $585,000, which was before the renovations.
BizSense was unable to reach Shane Parr, the registered agent for Shockoe Place Apartments. Several sources said he was one of primary investors in the project.
The lender foreclosed on the property with an unpaid balance of $2.78 million, according to Trepp.com, a provider of data on commercial real estate loans.
The property was appraised by the city in 2010 at $3.6 million.
Local commercial real estate firm Thalhimer is the management company for the apartments. Representatives there said they could not comment on the foreclosure. The property is featured on their web site as a case study.  According to the study, after Thalhimer was hired to handle leasing for the under-occupied property, the building achieved 98 percent occupancy in 90 days.
A source inside the industry who spoke on condition of anonymity said the property is starting to become obsolete as other projects have popped up in recent years that offer more square footage and better finishes. But it's unclear why exactly the building is in foreclosure. A handful of sources with extensive knowledge in that part of town know almost nothing about the project.
Andy Little, a real estate investment banker at the John B. Levy Company, said a foreclosure in that area is a bit of a surprise.
"There is a lot of product down there that has leverage that is quite a bit higher," said Little.
Little described Shockoe Bottom as a "pretty solid apartment market." While he said he is not familiar with the apartment's operations, Little said that in general those who default on CMBS loans do so because of cash flow problems.
That could affect how much potential buyers are willing to pay for it.
"Generally if a property is not generating enough cash flow, it is not going to go for the loan balance," said Little. "On the other hand, there is a lot of money out there chasing apartments. It could be that it does go for the loan balance."
A public auction is scheduled for Feb. 9 at 11 a.m. at the John Marshall Courts Building. A deposit of $50,000 is required to qualify as a bidder for the sale. Interested parties should contact trustee Henry Brandenstein, Jr. of Venable LLP.
Al Harris covers commercial real estate for BizSense. Please send news tips to [email protected]