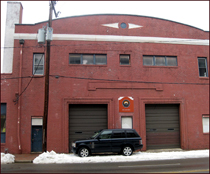 Developers love talking about historic tax credits and green building, but the two are not so easy to combine in the same project.
Developer David Gammino is giving it a whirl with the renovation of 408 N. 3rd street, which he is turning into an 18,000-square-foot apartment building with indoor parking.
The building will have 15 one- and two-bedroom units. Gammino said the building should be ready to lease in the spring.
Rent starts at $900 a month.
Gammino, founder of the construction and development company City & Guilds, said the budget for the historic tax credit project is $2.1 million. The building was built in 1912 by funeral director A.D. Price as a stable for his horses and storage for his funeral carriages.
It is located across the street from the Great Richmond Convention Center.
Financing was provided by First Market Bank, and Architecture Design Office is the architect. Construction started recently.
Gammino, whose company is also doing the construction, is also aiming to get LEED certification, a standard for environmentally-friendly and energy efficient buildings.
But reconciling the requirements to get both historical tax credits and LEED certification isn't easy.
"It's extremely hard," said Gammino, "The level of coordination is very high. You have to coordinate the criteria with subcontractors and get traditional tradesmen to work with green infrastructure guys."
For instance to be LEED certified, the building most meet certain efficiency standards, however historical rules dictate that original brick walls can't be covered with insulation. The original steel ceiling beams almost must remain exposed and the area can't be used for insulation.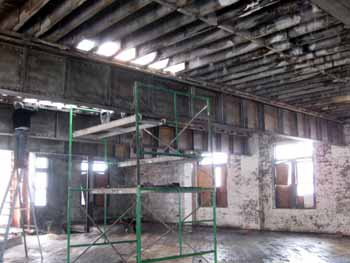 Gammino's solution is to put seven inches of insulation board on the ceiling, when normally only a couple of inches are used. Also the building will have a green roof, which is covered in vegetation that helps insulate the building as well as reduce storm water runoff.
The building will also be equipped with solar hot water and a solar photovoltaic system that will provide electricity for the building's common areas.
Building for LEED Certification raises the costs by about 30 percent, Gammino said.
"I think the adaptive reuse projects in Richmond are all becoming so similar, I want to differentiate my contracting company," Gammino said.
Gammino started City & Guilds originally as a contracting business, but he recently started developing real estate.
He recently completed his first project, a conversion of an office building in Oregon Hill into several apartments. Four of the 13 apartments are already rented after starting leasing last week.
Al Harris is a BizSense reporter. Please send news tips to [email protected].