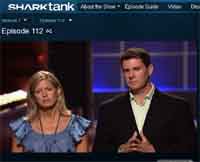 Having nosy cameramen filming your every move makes it harder to get work done. But it can be well worth the nuisance to appear on TV.
Four Richmond businesses have used the national spotlight to sell their brands and their personalities, boosting their exposure beyond Richmond.
"I watched it air with my wife and a few friends, and halfway through my BlackBerry started going nuts with emails from people wanting franchise information," said Michael Barnett, CEO of Romp n' Roll, who went on ABC's "Shark Tank" with his wife/co-founder. "In just a few weeks, over 400 people have contacted us about a franchise. That's about how many inquiries most companies get in about a year."
"Shark Tank" lets entrepreneurs pitch their companies to five potential investors who have already amassed fortunes in business. Barnett had to wait five months for his appearance to air. He knew the investors had decided to pass on an offer of 20 percent equity for a $300,000 investment in the children's gym company he and his wife founded in 2005, but he had to keep that a secret until Jan. 15.
ABC edited the hour-and-a-half conversation between the Barnetts and the sharks down to 10 minutes for the show. The investors disagreed with the Barnetts over the worth of their company, but according to Barnett they were very complimentary.