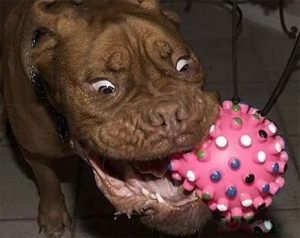 Thousands of pet stores across the country, including several in the Richmond area, have one thing in common: They order their inventory of toys, leashes, collars and accessories from WholesalePet.com.
Bo Nelson started the Richmond-based company in 2001 and has handful of employees. The company has 4,500 active customers on its site that order from 200 pet product suppliers picked by Nelson.
"We are very selective," Nelson said. "We get about 10 vendors requests per week. Out of those we choose one every other week to get onto our site."
The company is paid a commission by the suppliers based on sales completed over the site.
BizSense met with Nelson to find out more about how he got started — somehow Paris Hilton comes up — and his thoughts on the oft-repeated legend that the pet industry is recession-proof.
Below is an edited transcript.
Richmond BizSense: How did you get started?
Bo Nelson: I've been in the pet industry since the early '90s. I had a company called Grateful Pet, and we made a product call Gravy Time, which was a liquid sauce for dry dog food. We did pretty good getting out into the marketplace. We got it into Ukrop's and Petsmart stores and we had Kmart for a little while.
We made every mistake in the book. We made packaging mistakes, production mistakes. We had to do a recall, but it was a new concept. We did that from '91 to '97. Sales went up in the beginning but sales started trickling down, and we lost the big stores.
I was trying to raise money; one of our biggest underlying problems was that we were underfunded. I was talking to a lot of private investors during the dot-com build up. Everyone was looking at me like I was crazy, because everyone wanted to invest with something with a dot-com at the end of it.
I looked and saw how maybe the Internet could help the industry out. There are lots of small suppliers and there are lots of small independent retailers, and the Internet seemed like the perfect conduit to connect a bunch of small people together. That's where I got the idea for Wholesale Pet.
RBS: When did you launch?
Nelson: We launched in September 2001, the weekend before 9/11. In a way our timing was perfect, because the pet industry has changed a lot in the last 15 years. PetSmart and PetCo in the late '90s did IPOs and opened a lot of stores and put a lot of independent pet stores out of business. So new growth in the industry has been in these boutique pet stores. Around Richmond, you have Love of Pete and Three Dog Bakery. They are more upscale and trying to differentiate themselves. They carry more upscale brands, organic and glitzy glamorous stuff.
RBS: How has the recession affected the retail pet industry?
Nelson: 2006 was when we took off, 2006 and 2007 we were 100 percent growth, and then it leveled off with the recession. 2008 and 2009 and starting this year we are pretty flat.
But our fourth quarter last year, we are up like 40 percent.
They say the pet industry is kind of recession-proof, but I don't think that is completely true, especially in that the business we are in is more upscale. Some of the things we sell may be more frivolous or unnecessary for pets.
In 2007, Paris Hilton and Nicole Richie had these little dogs and were always flaunting them. It seemed ostentatious to dress your dog up and put it in a purse and put a bunch of jewelry on it. I think with the recession people are thinking that flaunting wealth and money is not as cool as it used to be.
RBS: What is your competition?
Nelson: We have a lot of competition. You have traditional distributors who have been there forever that stock merchandise and deliver on trucks. That's one form of competition. It's not direct, because their merchandise mix is a little different. We also compete with traditional sales reps that cover a limited area and go store to store. We have stores buying directly from the manufacturer and not using our service. The stores can go to them; the value we provide is one-stop shopping where they can order different lines in one place.
Our first direct emulator came into existence in 2007 or so. It was a group of street reps who would go into stores and all of their stores started saying they are shopping with Wholesale Pets.
RBS: You have also launched another company, abcreps.com. Tell us about that.
Nelson: Since we had success with the pet industry, we also wanted to do other industries. We thought the baby industry was very similar in the fact that there are a lot of small upscale suppliers and small independent boutique stores. In 2008 we put it together, but it hasn't taken off as quickly as Wholesale Pets did when it launched. We just brought in a new manager this year, so we think that is going to turn things around.
RBS: What's hot in the pet industry now?
Nelson: Some of the big things are organic and eco-friendly. We've seen the move from "bling" stuff like collars with rhinestones. Now there is more of a shift toward utilitarian stuff, harness or leashes with a function or toys that train your dog to do something as opposed to just playing with it. We've seen a shift to organic treats and people are more conscious of what they feed their dogs. You see more companies shifted towards American made.