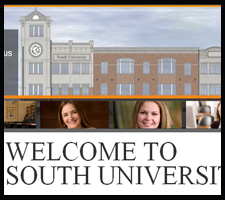 Troy Ralston is the president of Richmond's newest institution of higher learning, South University. The university opened for classes in October at its campus in West Broad Village in Short Pump.
Other South University campuses include Virginia Beach, Savannah, Ga., Columbia, S.C., Montgomery, Ala., Tampa, and West Palm Beach, Fla.
Ralston was president of Everest College's Arlington campus before joining South. Before that, he had worked at DeVry University, where he held a variety of positions that included director of start-up operations and regional director of operations.
Ralston also has worked in sales for professional sports organizations, including the Oakland Athletics, the Phoenix Suns and the Denver Nuggets.He graduated from Arizona State University with a degree in Broadcast Journalism and holds a Master of Business Administration degree from the Keller Graduate School of Management.
BizSense interviewed Ralston last week. Below is an edited transcript.
Richmond BizSense: What is South University?
Troy Ralston: South is a private accredited university with a 110-year history. It offers undergraduate and graduate degrees in business and the arts and sciences.
RBS: What's your workday like?
TR: I'm basically in charge of the overall operation of the university, including enrollment management, academic affairs and student services. I'm responsible for making sure they all running smoothly and efficiently.
RBS: Why did you select Richmond for a campus?
TR: For several reasons — one was the quality of life. Also, there was the opportunity to benefit from the setting in West Broad Village, the convenience and the shops nearby. There was the growth that's occurring in Richmond. We also felt that the programs we offer, a lot are in the health-care field, and Richmond offers a lot of jobs in health care.
RBS: With five traditional colleges, two community colleges and other institutions of higher learning in the area, what separates you from the competition?
TR: There are obviously a lot of fine institutions in the area. And all have their unique strengths. What we offer is a campus culture that's very accessible to the students — it's a culture where the students get to know the faculty and the faculty knows the students by name, and the faculty and staff will work with the students and support them.
RBS: Where are your students going to come from?
TR: We're open to anyone who wants to pursue higher education. There are three categories essentially: working adults looking to change careers, working adults looking to augment their education and recent high school graduates looking to go to college.
RBS: What is the tuition at South?
TR: Of course it varies by program. But the average per quarter cost for undergraduate students is just under $5,000.
RBS: Describe the facility.
TR: We're located in West Broad Village. The facility is just under 30,000 square feet of space with 12 classrooms and a lab. It has a library and a bookstore. It's a standalone building. We're the only tenant, though there is room for another tenant there. But we have first right of refusal on who it is.
RBS: What is the enrollment and what is the target enrollment?
TR: We have 185 students and we're in our second quarter. Throughout the South system there are about 17,000 students across the seven campuses. The Richmond campus capacity is about 1,000 students.
RBS: What are the long-term expectations for South University in Richmond?
TR: Well, obviously it would be to continue to grow our enrollment. We've gotten off to a terrific start. Over time we hope to maximize the space we have and continue to grow.