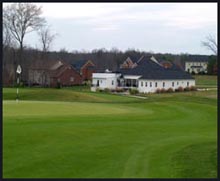 The biggest lender to an upscale golf course in Hanover County wants to take the course back from the owners/operators.
Essex Bank, which is owed about $8 million and is not receiving payments, filed a motion in bankruptcy court Wednesday asking a judge to remove the Federal Club from bankruptcy protection.
"The Bank intends to assume management of the Golf Course, the surrounding property, and intends to fund the Golf Course's on-going operations until a buyer can be found," the filing says.
The judge will rule in late March.
The Bank alleges in filings that Ray Tate and Richard Laibstain, the two principals at the Federal Club, are violating the rules of bankruptcy court. The bank alleges that the owners used cash from the business to pay $20,000 in personal debts to Paragon Commercial Bank and that the current operators cannot turn around the business.
Laibstain said in a phone interview that the figure is $8,000 and that Paragon has been instructed to pay it back to the Bank of Essex.
He said the motion was not unexpected. "We'll defend it, and we have to be able to prove we can take care of what we can take care of."
Ray Tate, who was also reached by phone, said the club is doing everything it can to fix the business. "We've gone to semi-private play and added 20 new members. We have 60 signed up to play on Saturday and Sunday," he said.
The Federal Club was intended to be an exclusive private golf club designed by Arnold Palmer. In January, it opened to the public to help boost revenue.
The filings also say that the Federal Club has not paid more than $40,000 to the IRS for employee withholding taxes since filing for bankruptcy protection in October. The U.S. Trustee for the case has previously warned the company that it had to pay taxes or could be kicked out of bankruptcy protection.
And the bank, which did not return calls seeking comment, is worried that the club does not have enough cash to continue to run the club and will not be able to maintain the course as the spring approaches and more upkeep is needed. The bank wants to make sure that the asset is maintained so that it can eventually recover as much as possible.
"The debtors are not making any payments to creditors or payments for their equipment. Such payments will certainly be required for any confirmable plan," the filing says. "The debtors have not offered any concrete plans on how they intend to overcome their cash crisis in the next few months."
The Federal Club has said it is losing an average of $75,000 a month, although that figure is significantly less during the winter, when maintenance costs are lower.
Unsecured creditors are owned about $7 million.
The Bank of Essex first lent to the club in 2001.
More reading:
In December, BizSense wrote an in-depth feature about the club entitled, "Time for the rescue club."
Aaron Kremer is the BizSense editor. Please send news tips to [email protected]