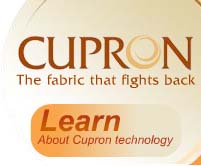 A company founded on the therapeutic qualities of copper has created an affiliate company devoted to using copper in hospitals and raised more money.
At the end of 2009, a recapitalization effort at Cupron Inc. created Cupron Medical, a company based in Delaware but with principle offices in Richmond. The recapitalization was funded by approximately a dozen private investors and was led by Virginia Life Sciences Investments, a biotech venture capital firm in Richmond.
In 2002, Cupron developed the antimicrobial properties of copper and created anti-odor textiles that could be woven into socks or incorporated into combs.
"When Cupron's technology is used in socks, you have an odor-free sock," said John Cudzik, CFO for Cupron Medical. "It's also been found to have cosmetic effects, such as reducing wrinkles."
Skinglow, for example, has licensed Cupron's technology and created pillows and comforters that supposedly reduce one's wrinkles while sleeping. Bed Bath & Beyond carries Skinglow products that feature Cupron.
The newly formed Cupron Medical will use the same technology but will create more medically focused products.
"We're targeting … therapeutic socks, as well as hospital linens that can be used to cut down on hospital acquired infections," said Cudzik. "Our product has also been shown to improve wound healing, so we're nearing the clinical trial phase of bandages and gauze with the copper technology."
Cudzik anticipates Cupron, Inc will bring in $2 million in revenue in 2010, and Cupron Medical to do over $2 million by 2011. The medical division employs four people, with plans to reach a dozen in the next two years. Cudzik declined to disclose how much money had been invested in Cupron Medical.