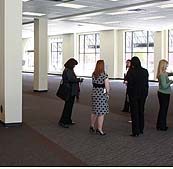 The Children's Museum of Richmond is expanding.
On Monday the museum unveiled a rendering of its new outpost at Short Pump, which is scheduled to open in June.
The organization leased 15,500 square feet of space at 2200 Old Brick Road in West Broad Village, across from Whole Foods Market. The space had been built out for Books-A-Million, which reversed its decision to open a store in the new mixed-use development last year.
Karen Coltrane, CEO at the museum, was on site Monday along with other staff and said the she looked at locations all over the region.
"We looked all over at where people congregate and did some market research. There are a lot of people who say they love the Children's Museum, but that it's just not convenient enough," Coltrane said.
She said that about one-third of all museum members live in the West End and that the museum has been looking for ways to reach a greater percentage of the Short Pump area population.
"We figured the most cost-effective way to reach West-Enders was to come to them," Coltrane said.
Museum staff members also hope to attract residents of Chesterfield County because of the new location's close proximity to Route 288.
Coltrane said the decision to add another branch is partially a creative funding initiative.
"We are an institution dedicated to fostering creativity, so it made sense that we use the innovative thinking of our board, staff and volunteers to devise our own creative solution for the museum's business challenges. We believe a branching model allows the organization to have much more impact throughout our community by generating more resources for our core mission."
Henrico County Manager Virgil Hazelett describes the new location as a welcome addition to the area.
"We are delighted to have such a highly regarded nonprofit organization whose mission is dedicated to early childhood education come into Henrico County," Hazelett said. "We see the addition of the services provided by the Children's Museum of Richmond as a great asset to our county."
The new location will be known as the Children's Museum of Richmond-Short Pump, while the original location will be called Richmond-Central.
The downtown location will continue to operate as normal with all exhibits, camps and other programs.
The West Broad Village location will be open daily from 9:30 a.m. to 5 p.m., and members will have access to both locations at no additional charge. The non-member rate will remain unchanged at $8 for either location.
Trevor Dickerson runs DowntownShortpump.com, which is an RBS News partner.