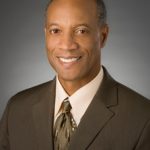 Ed Grier has his hair trimmed shorter than he did in his headshot. He's a tall, well-built man, and he's wearing a black-and-gold VCU tie, a gift that came with the news that he would be the dean of Virginia Commonwealth University's business school. He's settling into two-year-old Snead Hall, which the school shares with the engineering school, and the shelves on the desk in his office are bare. Grier comes from a world of magic: Before taking over as VCU's business dean he was the president of Disneyland resort in California.
BizSense caught up with Grier last week. Below is an edited transcript.
Richmond BizSense: How is it different, stepping into the academic world after spending most of your career with a major corporation?
Ed Grier: Certainly it's a different take, but the drivers are the same: customer service. Here the students are our customers, so we want to make sure the experience is what they want and exceeds their expectations. But certainly the biggest difference is being in an academic institution that's research based. The research is very important here, and that's something we'll build upon. We're a large institution, and we want to be known for our research and for using that research in a credible way.
RBS: Why was it time to leave Disney?
EG: I had been thinking of going into education for a long time, particularly with the experience I had with my three sons. The youngest just started at Stanford this year, and that process led me to think how important it is, what we're doing here, educating the young people. If I was going to step into the academic realm, the business aspect of it would be where I would do it. And it was a perfect time for me. My kids are out of the house.
RBS: So the academic realm was the only thing to pull you away from Disney
EG: It was the only thing. I had a great relationship with the company. I worked there a long time. I have lifelong friends there. It's a tremendous company. My kids grew up with it. The brand is powerful, the brand is something that's known worldwide, and I'll always have that. I loved my experience there and had some great experiences. I started in the auditing division and ended up being the president of the Disneyland resort, the original theme park, you know, that Walt built. The only one he actually walked in. So I feel very fortunate and ended it on a high note. Now I get to do something else.
RBS: If you wanted to get into the academic realm, why start at the top and not in the classroom?
EG: I think from a leadership perspective, that's what I've done for most of my career, so to lead the school to a higher level, so to speak, is where I felt I was most suited.
RBS: What are some of your plans for the business school?
EG: Without a doubt, we want to increase the profile of the students that come here and increase the research capabilities of the school, and we want to be great partners with the business community and the community at large. That's what I want to do. We're going to get better. It's a great school right now, but we're going to get better.
RBS: Do you have a specific thing you see yourself offering to the community?
EG: One of the things that was a big passion when I was in California: I was on the hospital board of a children's hospital, and that took a lot of my time, but it was well worth the time. I just love that aspect of the community need, particularly with children's causes. That's a passion of mine. I don't know where I would connect that passion to here, but I'm certainly looking into it.