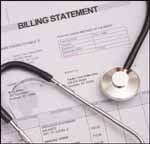 President Obama signed a new health-care reform bill that will expand access to health care just as businesses try to reduce their role in providing benefits. And according to two principals at Dominion Benefits Solutions, the bill won't do much to fix the main problem: rapidly rising costs.
This week RBS talks healthcare with a doctor and his MBA colleague about what the legislation might mean for local business and why the free market seems to be nonexistent in the health-care industry.
Dr. Larry Colley is a principal at DBS and a former medical director at Trigon Blue Cross Blue Shield. Tim O'Shea works more on the business side and is also a principal with Dominion Benefits. Below is an edited transcript.
Richmond BizSense: What is the biggest concern of clients?
Tim O'Shea: I don't think there is any doubt: It's uncontrolled cost trends. And the burden of passing much of that rising cost on to employees as well as meeting budgets.
RBS: How much are rates going up?
TO: The average rate increased between 15 to 20 percent with the same benefits over last year's rate. That can range substantially. One dropped 5 percent. Another went up 60 percent. The year before, they went up an average of 12 or 13 percent.
RBS: Why did one go up 60 percent?
TO: It was a small group with low claims, but the insurance company saw the potential for a transplant, so the rates went way up.
RBS: Why don't health costs drop like technology prices, where the same laptop is about half as expensive every three years?
TO: People are buying way more of it. When you buy health insurance, you are buying a big lump of services. And if you look at what's inside of that, the pure inflation piece of it is very modest. If you ask how has the unit cost of an established service, like penicillin or a chest x-ray, increased, it is not much at all. What happens, though — there is a utilization component. People are incurring far more office visits. They are taking more prescriptions and getting more service.
Let me offer another analogy. In my family of five, 15 years ago we spent $50 on communication – a landline. Now I have five cell phone bills, and my total is around $400 a month.
RBS: A lot of the stories I read say that on a macro level, we are not getting much healthier for all that spending.
Larry Colley: Nobody in America would be happy going back to care 20 years ago, or even 10 years ago. We have minimally invasive surgical techniques that have drastically reduced recovery times.
RBS: Let's talk some about the health-care bill and how it will affect Richmond companies.
TO: At a macro level, clearly the bill became about access and coverage. There does not seem to be much of a focus on mitigating cost trends, although there are a few elements I like. I think the burden on employers from an administrative complexity perspective is going to be enormous even though we don't see the details. It can't be anything but complex.
RBS: How about the exchanges, where theoretically health insurers are supposed to compete more?
TO: The requirements that exchanges offer a certain menu of products and the how hose products are underwritten should create access to a one-stop shopping for small employers. There will still be requirements for employers to figure out. Do I offer coverage for my employee? Do I pay a penalty and go at it alone individually?
RBS: What sort of trends are you seeing with your clients?
TO: There is rapid momentum toward consumer-driven health care, i.e. high deductible health plans and health savings accounts. More than half of our groups provide that as an option. The problem is, I don't think the reform bill kills high deductible plans, but isn't encouraging them either. That's a disappointment to us.
RBS: It seems that health care is not a free market at all. If you want to find out what a hospital bill is before you go, it's almost impossible.
LO: When you go in for knee surgery, or a major procedure, it's really hard. You often don't know what the doctor is going to do or charge for. I'd say that's not true on less expensive care. There is lots of evidence in consumer-driven health plans where people are shopping for generic drugs — using Wal-Mart or Target.
RBS: OK, but even when you get the bill, it's incomprehensible. Hospitals just make up a figure out of thin air and then apply a "discount" for their insured clients. What an absurd system.
LO: To some degree, you are right. The charges are a fictitious amount. Fewer than 5 percent of customers are paying this stated charge. But there is not transparent pricing, and that's because doctors and hospital don't have to. They don't have to because great majority of their customers don't care what the costs is, because it's being paid by other people's money.
That's very different for the side of the industry that isn't covered by insurance. When you get Lasik surgery or dental implants, or plastic surgery, you know exactly what it is going to cost. And it's the same doctor and hospital as the other bills. Those other things that are insured, people don't ask for the price. Doctors and hospitals aren't going to provide it.

RBS: The incentives are also out of kilt. Surgeons get paid more to operate more, with no reward for the outcome. That's like Allen Iverson getting paid to shoot more, but not to win more.
LO: The private market has tried those. Back in late '80s and the first half of '90s, there was a pronounced movement toward capitation and having salaried doctors. There were various experiences with "episode care" reimbursement. I would say that folks in state government were unkind to that process. And lawyers and courts were unkind to that process. The media also pounded it – every anecdotal experience of someone not being happy just got played to the max.
Aaron Kremer is the BizSense editor and covers the health care industry.