The owner of the Max & Erma's restaurant at Reynolds Crossing was locked out by the landlord last week.
Employees at the Broad Street restaurant, which is near the Altria campus, arrived in the morning to find a padlock on the door, according to Phil Cornett of Cornett Hospitality, which owns the local franchise.
"The landlord there didn't want to work out a payment structure with us and decided to lock the doors," said Cornett.
"It's unfortunate," he said. Cornett also owns Hooters and Topeka Steakhouse restaurants in the area.
Cornett said that he attempted to negotiate a lower rent but that those efforts were unsuccessful. A call placed to Reynolds Development late Friday was not returned. (BizSense will try again today to get a comment from Reynolds or their lawyer).
The restaurant began to fall behind on rent shortly after the Columbus-based Max & Erma's corporation filed for Chapter 11 bankruptcy in October, Cornett said.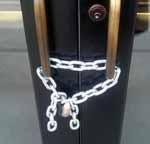 "The bankruptcy of Max & Erma's has been a real problem," said Cornett. "If you are a franchise, you depend on the franchisor. That is why you pay royalties for support, training, marketing and menu development – to help keep you relevant in your marketplace."
"If you have to do it all by yourself, you are not always prepared to be able to do that," he said.
Cornett closed the other Max & Erma's he owns on the John Rolfe Parkway in October shortly after the company declared bankruptcy. But that closure was a result of delays by the county to complete construction on the road. Cornett said he has waited six years for the road to be complete, and he is still waiting.
The county recently reached a $4.5 million agreement with Richmond-based F.G. Pruitt to complete the road work.
As to whether he will reopen that location, Cornett is keeping an open mind.
"You tell me when the road will open, and I'll tell you if we'll open," he said.