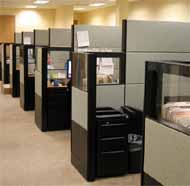 There's another benefit to singing an office lease these days in addition to lower rent: free furniture.
Over the last two years office vacancy has crept up above 10 percent as companies have moved, downsized or closed their doors forever –  often times leaving their furniture behind.
That has created a nifty incentive for landlords and made life much easier for tenants who don't want the extra hassle/headache of finding furniture and schlepping it into the space.
"It was an enormous factor," said Andrew Rose of Elephant Insurance. The UK-based auto insurance company opened their first U.S. division last year at Innsbrook in a former Capital One building that came decked out desks and chairs, filing cabinets, refrigerators, cafeteria equipment and trashcans.
"At the time the cost and complexity of taking a space that needed to be fully outfitted versus a turnkey solution was fantastic and the economics were phenomenal," Rose said.
Capital One had outfitted their new building at West Creek and didn't have a need for it, and it would have cost a lot to move it somewhere, Rose said.
Elephant leases the furniture from Capital One for a nominal fee, Rose said.
"If you look at the value of the furniture and accommodations we got here, conservatively a half million to $800,000," Rose said. He couldn't say how much they pay, but said it was "a stones throw away from free."
The only catch was that they had to reconfigure the space. It was outfitted for 150, but Elephant expanded to accommodate 250.
While Elephant's furniture incentive wasn't quite free, for some companies it is. A local insurance startup Kinsale (which RBS has written about here) got free office furniture, and a short-term lease signed by the Martin Agency at the James Center included furniture.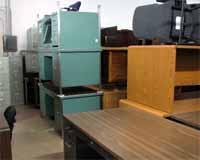 Malcolm Randolph, a broker for CB Richard Ellis, said that in the last few months it has become more and more common.
"Either the company that was there before have gone under, downsized or relocated. Or the landlords are offering it as an amenity," Randolph said.
In a recent deal he said he leased 20,000 square foot to a non-profit in the West End with 60 work stations and conference room tables and chairs all included. The previous tenant wrote it off as a tax exemption rather than incur the cost of moving it.
In other cases he said the furniture has been left behind or even seized by the landlord when companies fizzled. Sometimes the furniture isn't in the best shape and the landlord has to decide if it actually adds value. But now more than ever he said tenants are looking for furnished space.
"When moving to a space it's a major piece of the deal, it definitely separates one landlord from another," said Randolph.
Jason Guillot, a broker for Thalhimer, also said furnished space is more available, and more in demand.
"Almost everyone we work wants to know what's out there that is already set up like we need," said Guillot, "It is the first thing we explore."
Guillot said because of the economy business want more flexibility in the form of faster turnaround times and short term leases.
"If they want to sign a short term lease with flexibility, one way to do that is to find spaces that are already furnished and move in quickly," Guillot said, "If the furniture works and looks decent they will put their employees there."
Overall he said most offices for rent are unfurnished, but for those that are it is an aggressive incentive to offer. For those landlords that have empty offices, some are more open to buying furniture and setting up a space, but then they run the risk of putting in something the potential tenant doesn't like. More often, he said, landlords are offering furniture allowances as well as moving allowances to stay competitive.
The glut of office furniture isn't great for furniture dealers.
Kenny Whitlow, owner of Richmond Office Interiors said he has noticed the trend but it hasn't had a huge impact on his business.
"It makes it a little more difficult," he said.
Whitlow specializes in used furniture and he said that business has remained steady since he started three years ago. In fact, he said, his company moved from a 2,500 square foot space to an 8,000 square foot building.
But even when a company leases a furnished office, they still may have needs.
"We just did a deal for a company that was leasing some space with cubicles already in but nothing else," said Whitlow, "So we got everything but the cubicles."
Al Harris covers commercial real estate for BizSense. Please send news tips to [email protected].