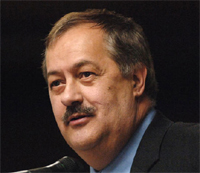 The recent fatal explosion at a Massey Energy mine in West Virginia has put the spotlight chief executive Don Blankenship.
Blankenship, pictured at left, is one of the highest paid corporate executives at a Richmond-based company. (He doesn't live here). In 2008, he received more than $11 million in compensation; in 2005, he made more than $33 million. He's also combative, regularly taking to his Twitter account to blast people he calls "enviros" for supporting cap-and-trade legislation. As a corporate policy, he fights environmental and safety regulations through appeals rather than complying with them. He also harangues journalists.
But now Blankenship is under a magnifying glass and has been accused of putting profits ahead of lives. For months, if not years, investigations and hearings will be conducted to find out what happened at the Upper Big Branch mine and how the disaster could have been prevented.
For Richard Coughlan, an associate dean at the Robins School of Business at the University of Richmond, the Massey incident raises many issues related to ethics, leadership and decision making. We talked with Coughlan, who studies decision making, about what Blankenship should do next.
Below is an edited transcript.
Richmond BizSense: What ethical issues pop out at you when you look at the Massey Energy mining accident?

Richard Coughlan: Business ethics boils down to decision making. What I try to do is to take an abstract concept and boil it down to individual decisions that add up to problems for a firm. Values guide decisions.

RBS: Where did Massey go wrong in its decision making?

RC: Massey Energy says it has three values: safety, ethics and excellence. I think there is mounting evidence that they are not operating according to any of those values. Their  problems built up over some time. Values are decision-making criteria, and what you have here is a complete misalignment of the values stated.
RBS: It seems it becomes a cost-of-doing-business issue. Massey seems to think paying fees for violations and spending legal dollars to contest them is cheaper than ensuring that the letter of the law is met. Is this an okay way to operate?
RC: Any company in mining operations is going to either toe the line, play hide-and-go-seek with regulators, or operate above and beyond. But safety costs money. When safety costs money in the short term, it is probably profitable to compromise making investments to make things safer. You may have to slow or stop production for a time while you make improvements.
But it is clearly not in the interest of long-term profitability. The stock price is down 20 percent, and obviously the company will be under increased scrutiny.
RBS: How would you assess CEO Don Blankenship's leadership and interaction with the media in the days following the incident?
RC: There is room for improvement. Blankenship has developed a reputation for being a hard-driving leader. Some investors would say that yields good returns. In terms of how this has been handled since the incident, his tone could be softer and more empathetic. There is a time for reminding people how dangerous this is and how competitive the industry is, but that is not now. I would like to see a leader take a more humane approach in the aftermath [of an accident].
RBS: How has Blankenship gone astray, and how can he regain his footing?
RC: The CEO serves many masters. Stakeholder interests include employees, the community they do business in, customers and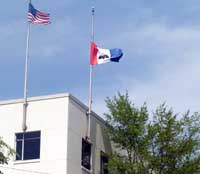 shareholders. The one group getting the most attention has been shareholders. He is not balancing the interests. Focusing on one group can generate popularity over time, but it comes at a cost of how you are serving the other groups.
The best leaders are successful at balancing stakeholders' interests. The employees and the community there are not a vocal stakeholder group. These folks are scared to go on the record because Massey is all there is [for employment], and they are intimidated into not saying anything.
RBS: What can the company do to repair its image?
RC: They have to put some real meat on the values that they claim are their operating principles. Let's see evidence of ethics, safety and excellence. You can't do it in a month and say we mean it. It is going to take time and additional investment on their part. It will require them to be more transparent and maybe shut the mine down for a time and go well above what is mandated by law to shape a new image. But that is tough. Years and years of action have shaped their reputation; it will take just as long to change it.
RBS: What other lessons can be learned from this incident from a management perspective?
RC: The first is showing true commitment to company values in everyday actions.
I think the second thing is that there are lessons coming out of the Toyota case that have applications here about being upfront. Acknowledge certain decisions that were driven more by profit than by the safety of employees, or customers in Toyota's case. Make a sincere commitment to change that. Often times what is required is a change in leadership to change that direction.
More reading: For RBS readers who enjoy thinking about leadership, you must listen to a phenomenal NPR story on Richard Phillips, the captain of the container ship that was captured by pirates off the coast of Somalia. It's one of the most incredible stories we've ever heard. You can listen to it here. Probably best to download and listen during a car ride.
Al Harris is a BizSense reporter. Please send news tips to [email protected]