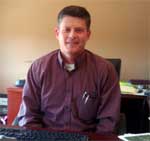 A Maryland-based engineering firm wanted out of Richmond, but one of its engineers didn't.
George Nyfeler, a West Point-trained land surveyor, decided to start his own company, Nyfeler Associates, when McCrone Engineering decided to close its Richmond office after a four-year run.
The new company offers civil engineering and land surveying.
Nyfeler traveled the country surveying for different companies before going to work for Timmons in 1994, and he was on the company's Board of Directors in 1997. He left the firm to work for McCrone's new office here.
We caught up with Nyfeler to find out what it's like to start a small firm.
Below is an edited transcript:
Richmond BizSense: Do you have employees?
George Nyfeler: I have six employees. The entire McCrone office came with me.
RBS: What unexpected challenges have you faced in starting your firm?
GN: I knew it would be tough, but I did not know it would be this acute. We are so busy – it is still scary. Monday will be three weeks. I hope to submit the bank loan and wait six weeks for that.
The family Suburban isn't parked in the driveway anymore because it's a survey truck now. And the first payday, everybody got a check but me.
RBS: Why did McCrone pull out of Richmond?
GN: McCrone had big company overhead and small company marketability. It works with 70 years of branding like it has in Maryland. The company opened a new office here at the beginning of the recession, so it could have more to do with that than the other.
RBS: So there was less work to go around and it was tougher to get it?
GN: It was like the music stops and half the chairs are gone. There is drastically less work. The banks aren't lending. You can't get a loan without 40 percent down, when before you sometimes hardly needed anything. The food chain starts with banks.
RBS: How did you get work so quickly when you started the new firm?
GN: It is a boatload easier when your firm closes its office and still wants to work with you and when they terminate their contracts and tell the clients to work with us.
RBS: Who are you working with now?
GN: We're working on a job at Fort Eustis, the dining hall at Fort Lee, as well as some projects with the Better Housing Coalition.
RBS: What are the advantages of having a small firm in this market?
GN: I expect a sea change with qualified compact firms eating the lunch of mid-size firms. Recent layoffs have senior qualified people starting firms with low overhead and a high level of skill.
Small shops are nimble and flexible in the market. For instance, the other day I was at Fort Belvoir making contacts and found someone I could do work with. I didn't have to check back and see if I had resources. As good as multi-office firms can be, there is coordinating involved. You can't make the deal to joint venture on the spot like that.
RBS: Have there been a lot of layoffs in the civil engineering industry?
GN: In the last 18 months, most of the mid-size firms I know of have cut their staff in half. The current economy has people grappling. People will work part time when five years ago you had to pay them a fortune with benefits and they still might not take the job.
RBS: With smaller firms and less work in the pipeline, what is competition like?
GN: It is really cost competitive; firms are losing money on each job. Same for contractors. When things pick up, the firms that are still standing will do better.
Al Harris covers the building industry for BizSense. Please send news tips to [email protected]