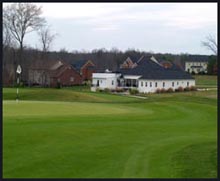 A group of members at an upscale country club in Hanover County are not the only ones interested in buying the distressed club at a steep discount, and those members might want to lower their price after finding more complications with the course. But that's only if their $2 million bid does not become the default, or stalking horse, bid.
Two other groups are interested in parts of Federal Club, which includes an 18-hole Arnold Palmer golf course as well as undeveloped lots and land.
According to several sources close to the deal, developer Bob Atack has looked at buying the club. His offer might be north of $3 million. Atack's office did not return several calls seeking comment.
It is unclear what he might want with an upscale club, but Atack has a long track record developing urban and suburban neighborhoods around Richmond. He recently got involved in another distressed property, Magnolia Green in Chesterfield County, which also includes a golf course. (You can read more about that in a Times-Dispatch story here.)
The Federal Club is in Chapter 11 bankruptcy protection and owes more than $8 million to the Bank of Essex and millions more to unsecured creditors. The bankruptcy court has approved a plan for the current owners to sell the course in order to pay back some of the money they owe to the Bank of Essex.
Ray Tate, one of the owners and developers of the club, said he does not know who might bid. "I don't know any more than I knew last week or the week before," he said, adding that interested parties "call the bank when they want to do something. They don't call us."
The club's lawyer, Doug Scott, said negotiations will go down to the wire.
(You can read more about the club's troubles in a BizSense story here.)
A third party is interested in the property, but BizSense could not confirm his or her identity.
Meanwhile a deal between a group of members and the debtors is starting to fray.
Scott Lantzy, who is representing a group of fellow members who want to buy the club, said that their $2 million stalking horse offer expired Friday when the course owners did not sign a purchase agreement. A stalking horse offer would allow the member group to be the default bid, and if no other bids came in at a higher price, they would get to buy the course for the set amount. An additional benefit of being the stalking horse is that if another party out-bids them, they get a payment of $100,000.
As of Monday, there was some confusion on all sides about the exact status of negotiations to sell the club, but that will likely be cleared up at a bankruptcy hearing today.
Lantzy said his group has learned about more troubles with the club and would offer "substantially less" if their $2 million deal weren't accepted.
"There are a lot of things that needed to be done to keep it going and get it ready," Lantzy said. "It costs a lot of money to maintain. We are comfortable taking it over, but we have some additional things to pay, such as permitting and a full-scale survey. Those expenses start to add up."
Lantzy said his group has not performed an in-depth study of the plan (due diligence), which would happen once a purchase agreement was signed.
Aaron Kremer is the BizSense editor and covers the golf industry. Please send news tips to [email protected]