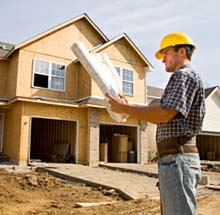 Residential and commercial construction in Henrico and Chesterfield counties has rebounded from the nadir of 2009 but has not come close to regaining the steam of the go-go years, according to a BizSense analysis of building permit data.
New home construction in Chesterfield is up 43.5 percent in the first quarter compared to 2009.
Although area companies are no doubt thankful for the activity, the amount of work is a far cry from years past. New home construction is still  down 34 percent from 2008 levels in Chesterfield. And overall activity (commercial, new homes and renovations) is down 50 percent from the first quarter of 2008, when Chesterfield issued 1,566 commercial and residential permits totaling $118.1 million.
In Henrico during the first quarter, new single-family home permits dropped 48 percent from 288 homes in 2008. Total permits fell 33 percent, and their total value fell 48 percent.
Permits for single family homes are up 8 percent in Henrico, with a total of 148 permits in the first three months. Many of them are attached townhouses at West Broad Village, where Eagle Construction has started building again.
Bud Ohly, president of Eagle Construction, said they have 11 homes under construction there, with permits approved for more.
"Things are a lot better than they were six months ago," Ohly said. At the time, construction had halted, and the master developer Unicorp was straddled with liens and lawsuits.
In the first three months of the year, he said, they have sold eight units, which was everything they had available. Of the homes under construction, he said they are building a few of them on spec.
"At West Broad Village and a few of our other properties, we are scrambling to get more on line for what we think is increased demand and not an increase in supply," Ohly said.
The overall pipeline is skinny, Ohly said, because banks are still reluctant to make loans. But for those with available capital, he said they are moving quickly to build.
"Localities aren't as busy, so you can get things through the approval system faster, and the contractors who have remained in business are eager to get new jobs started," Ohly said.
On the commercial side, much of the recent activity has been driven by HCA as it rolls out major renovations and new buildings at the Henrico Doctors Forest Road campus. This year, the hospital has filed for permits representing more than $23 million worth of work. The work is part of a $100 million expansion that began last year.
Lisa Valentine, chief operating officer for HCA, said the project is about 50 percent complete.
"For this campus, this is one of the largest investments we made in the history of the hospital," Valentine said. The expansion has been planned for the past five years.
A 95,000-square-foot medical office building opened last year is 87 percent leased. A facility for a special kind of MRI opened last month. Work is winding down on a new ambulatory surgery center to open in May. The final phase is a new emergency department and cardio critical care center that will open in December.
"Through this project, we are increasing our square footage by 25 percent," said Valentine. "It is a sizable investment."
The hospital also has invested heavily at the Parham Road Henrico Doctors campus.
International firm Bovis Construction is the main contractor for most of the expansion. Valentine said more than 60 percent of the subcontractors are from the Central Virginia area. She 1,200 workers will have been on site once the project is finished.
Al Harris covers the building industry and commercial real estate for BizSense. Please send news tips to [email protected]