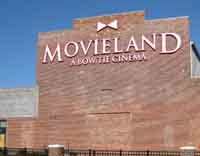 The commercial real estate market has slowed down over the last couple of years, but that didn't stop hundred of professionals from gathering last night to celebrate the best new projects in the Richmond.
Movieland at Boulevard Square was recognized as Project of the Year at the ninth annual Real Estate Awards Gala presented by GRACRE.
Movieland transformed the Richmond Steel Building at Leigh Street and Boulevard into the city's only multiplex. It opened last February. The theater is owned by New York-based Bow Tie Partners. The architect was Commonwealth Architects and the contractor was CD Hall Companies.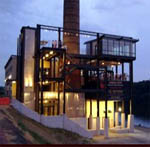 The best retail or restaurant project award went to The Boathouse at Rocketts Landing. The developer was Kevin Healy and the WVS Companies. Architect Johannas Design Group, interior designer HL Reed Design and contractor J.D. Lewis Construction Management shared the recognition.
"I hired the right people," said restaurant owner Kevin Healy before the awards were given out on how he felt to be nominated.
Healey said he was interested in the property, a former power plant that once was used to charge city street cars, before WVS even began marketing it. His restaurant opened last August and he said so far the vision has been a success and will only improve as more people move to the area.
Suburban retail developments Rutland Commons and Westchester Commons were also nominated for the same award.
Debbie Wake, the president of GRACRE, said she was pleasantly surprised by the record number of nominations this year.
"I think last year we were worried if we would haven enough project to field a program in 2010," Wake said.
The nominations were narrowed down to 37 finalists and a panel of judges selected the 12 award winners.
Below is a list of the winning projects:
Project of the Year: Movieland at Boulevard Square
Best Retail or Restaurant Project: The Boathouse at Rocketts Landing
Best Institutional or Public Project: VCU Molecular Medicine Research Building
Honorable Mention, Institutional or Public Project: VCU Walter L. Rice Education Building
Best Interior Project: Altria Client Services Headquarters Annex
Best Mixed Use Project: Hilton Garden Inn/Miller and Rhoads
Best Multi-Family Project: Mayton Transfer Lofts
Best Office Building: MeadWestvaco Headquarters
Best R&D, Flex, or Industrial Project: GRTC Transit System Corporate Headquarters
Best Recreational, Entertainment or Hotel Project: Richmond CenterStage
Best Renovated or Historical Rehabilitation  Project: The Power Plant at Rocketts Landing
Deal of the Year Lease: BB&T at Riverfront Plaza
Deal of the Year Purchase: Culpepper Farms & Oaks at Gayton Apartments
Al Harris covers commercial real estate for BizSense. Please send news tips to [email protected]